News
Well worth the wait: Meet the college's new Associate Dean for Research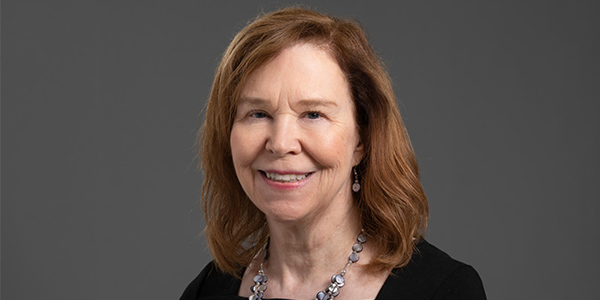 The new associate dean for research at the Michigan State University College of Nursing has a clear — but big — goal: To continue to raise the status of the research program not just regionally, but nationally.
It's what Susan Weber Buchholz said she will focus on once she learns more about the college.
"Ultimately, I want to continue to build on the excellence that already exists here, and really get that excellence out across the nation, Buchholz said. "I want to promote the work that's being done by the faculty and students here. That's my hope."
But first things first, she needs to learn more about her new employer, said Buchholz, who started in November after spending the past 11 years at Rush University in Chicago.
"I'm first working on further understanding how to promote the work of the Center for Nursing Research, Scholarship, and Innovation and how to support the college's research strategic priorities," said Buchholz, adding that includes working closely with different faculty to understand where they're at and what their own vision is for their research. "Secondly, I am working on learning about our PhD students and program."
One of the first challenges Buchholz is dealing with is the impact of the COVID-19 pandemic on research.
"Everyone needs to be extremely vigilant and careful, Buchholz said. "Some of the projects have had delayed timelines. We've had to reimagine our research"
Not only has nursing research been affected, but research funding has also seen a shift of money going towards research surrounding the COVID-19 pandemic. This is not a trend Buchholz sees going away anytime soon.
"I see that trend continuing for a while until our population is vaccinated, Buchholz said. "Even then, we still don't know all the effects of COVID. There will be a whole body of research that comes out about that."
Because of this shift in funding, Buchholz sees nursing research following that trend. However, there is still plenty of funding for other initiatives. "There are many different opportunities out there for healthcare research, in a broad spectrum, Buchholz said. "We as nurse researchers and nurse scholars will continue to tap into all those different kinds of funds."
Naturally, Buchholz herself is a researcher. Her background in nursing research has been in health promotion, and she focuses on working with adults to use the tools that they already have to improve their own health.
"I do that by working with people to improve their physical activity mainly by walking more, because walking is one of the most powerful things you can do to improve your health," Buchholz said.
Buchholz hopes to continue and expand on her research at the MSU College of Nursing.
"What I hope to do here with my research is to team up with other physical activity researchers as well as across the university working with some of the other disciplines to look at different areas of health promotion research, Buchholz said. "I'm a nurse practitioner so I have found that it is so important to work with people on their health promotion activities. The main goal of my research is to answer the question of how we can get these messages across so they make sense for people and that this comes as a daily priority."
Dean Randolph F.R. Rasch said while the search was long in finding a successor to Dr. Barbara Given, it was worth it since the college landed Buchholz.
"First, I want to thank Dr. Barbara Given, University Distinguished Professor (retired) for the work she has done, in an interim role, to rebuild the research efforts in the College of Nursing, Rasch said. "As sad as we are to see her go, we couldn't be more excited to have Dr. Buchholz on board to build on these efforts. I'm confident that she will raise the status of the College of Nursing and promote the work of our students and faculty."
Given recently retired after approximately 54 years with the college. While the college is sad to say goodbye to one of its legends, Given has been instrumental in helping Buchholz become accustomed to the culture of Michigan State University.
"Dr. Given is fabulous to work with and she is making this orientation process a joyful one, Buchholz said. "She is teaching me so much, she is very generous, knowledgeable, and kind, and I really appreciate her guidance."
Buchholz is excited to be with the MSU College of Nursing, and back in the state where she got her PhD from at Wayne State University. Buchholz knew she wanted to come to MSU when she interviewed earlier this year.
"I wanted to come to MSU because it is a great opportunity to be at a world-class university in a role that combined being able to promote nursing research as well as graduate education in nursing, Buchholz said. "I am very thankful to Dean Rasch and Michigan State University for this opportunity. After I interviewed here, I spoke with so many faculty , students and staff, and I was very impressed, and it was at that moment when I knew I wanted to work here."