News
41 years later: Dr. Gwen Wyatt reflects on her career with college before retiring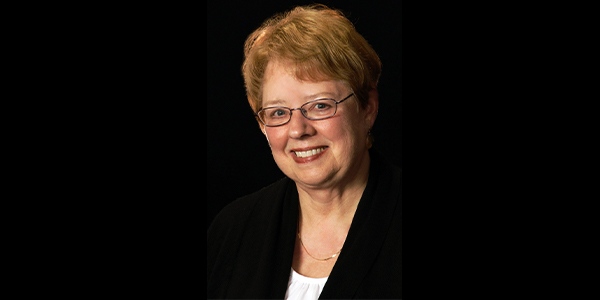 Dr. Gwen Wyatt, who is set to retire this year after over 40 years with the Michigan State University College of Nursing, could choose her finest moments from a long list of accomplishments, but she always comes back to two: the success of her students and the supportive care therapies her research helped provide to patients.
"The most gratification comes from the success of my doctoral students," said Wyatt, a professor and former coordinator of the PhD curriculum. "When I see them getting external rewards, getting really excellent post-docs and getting their dissertations published, there is just nothing better than that. I also am pleased for all the patients who benefited from the complementary therapies we studied over the years to help them have a better quality of life as they went through the trajectory of cancer care."
Going back to her roots
While Wyatt's own career in nursing research began when she joined the MSU faculty in 1980, the true roots of her journey go back much further. Raised in a small agricultural community in southeastern Michigan, Wyatt credits her mother for being an ideal role model.
"Most women at the time were homemakers," Wyatt said. "My mother ran her own business, had multiple college degrees and was a school teacher. She was a great role model for being accomplished while still being gracious. I have honored her "love for learning" by creating a College of Nursing dissertation award in her name."
Wyatt followed in the footsteps of her older brothers and graduated from Michigan State with a bachelor's in education, and then taught elementary students for three years. After some reflection, and being influenced by her mother-in-law who was a nurse, Wyatt decided to pursue nursing, where she could combine teaching and nursing in her career path.
"My mother-in-law was very fulfilled in her work," Wyatt said. "She was just a wonderful person, as well as a nurse. She had the most ethical character, was compassionate, and thrived in a career she loved. She was able to convey that to me."
Wyatt enrolled in the Henry Ford Hospital School of Nursing, became a registered nurse, and soon after got her master's from Wayne State University in Detroit.
"Once I had my master's, it seemed like I had lots of options and I interviewed with a lot of places around Michigan," Wyatt said. "When it came down to it, I said, 'Gosh, it would be so nice to come back to my original alma mater, Michigan State,' and they actually gave me the best offer."
Thinking outside the box
Wyatt was then hired as an assistant professor at the college, and was the last faculty member hired into the tenure system without a PhD. Wyatt's initial contract didn't include anything about research or publications, but Isabelle Payne, the dean at the time, encouraged Wyatt to publish her thesis research from her master's degree at Wayne State.
"In those days, the thesis was similar to dissertations now," Wyatt said. "It was a pretty major step — about as far as nurses could go. She really encouraged me to publish, even though it wasn't in the contract. She wanted me to be successful in the College of Nursing."
Wyatt, who now had a taste for the world of research, had to make a decision whether to continue her thesis work, which was centered around blood pressure management and cardiac patients, or to choose a different direction. While teaching clinical students on the oncology floor at Sparrow Hospital in Lansing, Michigan, Wyatt discovered a new passion.
"At that time, I saw the range of cancer patients," Wyatt said. "They were just so real and sincere and had no pretenses. They knew they were really sick. They were very open about what had been challenging to them in their lives and how they had been trying to resolve those things. I began to have an affinity for these patients. It was not at all hard for me to realize cancer patients would be the most fulfilling direction for my future research."
Now that Wyatt had her population, she aimed her focus on complementary and integrative therapies. Wyatt has done work in all five categories of complementary therapies: mind/body, body-based, energy, botanicals, and other medical systems. However, Wyatt's primary focus always has been cancer patient symptom management, aimed at improved quality of life.
"The big-picture goal of my research has been to develop a range of complementary therapies for cancer patients that are evidence-based and safe, and that have been shown to work for the population I was investigating, which was often women with advanced breast cancer." Wyatt said. In other words, the right therapy for the right patient at the right time. "Our research and testing of the safety and efficacy of the various therapies was the foundation for our creation of a menu to guide healthcare clinicians on what to recommend to their patients."
When the Bott wing of the CON was built in 2012, Wyatt was implementing a grant from the National Cancer Institute. The complementary therapy that was being tested for symptom management with cancer patients was reflexology. The reflexology consultant on her team had installed reflexology paths on university campuses around the country and internationally. The consultant became acquainted with our dean at that time, Mary Mundt, and suggested the idea of a reflexology path as part of the new landscaping for the Bott wing. A donor was soon identified and the path was incorporated into the landscape. It is now used by students, faculty, alumni and visitors as a meditative path to walk and reflect. It has come to represent a symbol of health and healing in our CON environment.
Wyatt has successfully received research funding for 26 years, despite significant challenges at first due to lack of resources going toward complementary-therapies research. While her research was considered, as Wyatt said, "avant garde" in the beginning, a lot of work has since been done in the field and there is now a National Center within the National Institutes of Health that coordinates research funding for these therapies.
"The purpose of nursing research, after all, is to achieve objectively better care standards and methods for patients and families. Traditional perspectives on 'new' ideas sometimes are based more on beliefs than objective evidence. Researchers must be unafraid to investigate wherever their studies lead, to objectively determine safety and efficacy. My work has helped to stretch the definition of 'nursing research,'" Wyatt said. "When I first started this area of interest, no one thought I'd get any funding for it, let alone continuous national funding for 26 years. I hope my example gives those who will come after me the courage and the vision to pursue their ideas, even when they are not considered mainstream. Keep your innovation and creativity alive!"
Reflecting and moving forward
Over Wyatt's 40 years at MSU, she has worked with seven different deans, contributed to the creation of the PhD program, and even seen her son graduate from the Eli Broad College of Business. However, when looking back at her favorite MSU memories, her first year in 1980 really stands out.
"When I first came to the college in 1980, it was a year the University was struggling with deep budget cuts," Wyatt said. "There was a movement to eliminate the College of Nursing. A lot of my first year was spent contacting legislators and alumni, and making the case that the College of Nursing was essential. For the next ten years, people would ask me, 'How were you able to save the College of Nursing?' We were able to because we believed in the profession of nursing, and we laid out an objective case for the essential role of the College of Nursing in providing better patient outcomes. That year was quite an introduction to the college!"
Wyatt's career with the University may have begun in a year of turmoil, but it's safe to say that she is leaving the College of Nursing much stronger. The impact Wyatt has had on her students, fellow faculty members and cancer patients around the world will be felt for a long time.
Dr. Megan Miller, a BSN and PhD graduate of the College, is now working as a post-doc at the University of Wisconsin-Madison, after having worked with Wyatt from her first year on campus as an undergraduate through to the completion of her PhD program.
"Gwen has been such a central support in my nursing research career," Miller said. "I couldn't imagine that I would be here, doing research on cancer-related symptoms with complementary and integrative health interventions, if it weren't for her continuous inspiration, encouragement and support. I am deeply grateful for the opportunity to work and study with her. I have no doubt that Gwen's career has made a great impact, not only for the cancer patients she serves, but for nursing research as a whole."
Wyatt will continue to work part-time for the college as a Faculty Excellence Advocate. Dr. Susan Buchholz, associate dean for research, is happy to still have Dr. Wyatt around, even if part-time.
"It has been absolutely wonderful to work with Dr. Wyatt since my arrival here last November. She is a brilliant nurse scientist who always contributes so much to each project that she works on. I look forward to working closely with her in her continuing role as Faculty Excellence Advocate."