News
ACCESS: Eliminating barriers through scholarship support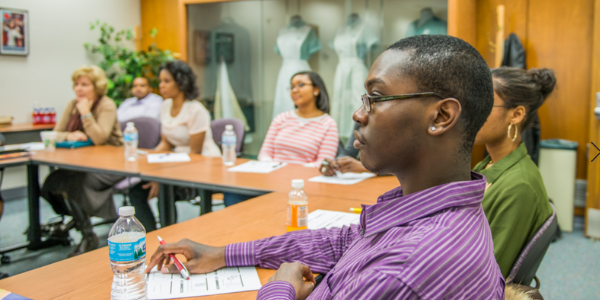 "The disparity hit me like a ton of bricks," said Dr. Jane Lacher, who with her husband Ronald, recently established the ACCESS for the College of Nursing Endowment. Their gift will provide support for students enrolled in the ACCESS Program at the college.
Brought on by the pandemic, health care disparities in underserved communities have been a widely covered topic. As a resident of Midland, Mich., Dr. Lacher said she wasn't aware of the privileges she inherited through everyday life."During the shutdown, I became acutely aware of my White privilege," she continued, "Midland is a very sheltered area, so I just didn't see the inequalities that were happening."
According to the Centers for Disease Control and Preven-tion (CDC), the median range of COVID-19 hospitalizations among White Americans sits at 16 percent, compared to 44 percent of African Americans and 36 percent in the Hispanic or Latino community.
A separate study conducted in various cities throughout the U.S. showed that 34 percent of COVID-19 related deaths were among non-Hispanic Black Americans, who only make up 12 percent of the population.
By providing nursing education to those in underserved communities, Dr. Lacher's impact will eventually touch the lives of patients.
A study by Stanford University concluded that by pairing black patients with black doctors, the black-white mortality gap due to heart disease could be reduced by 19 percent. This large figure is credited to the long-standing history of abuse and mistreatment of African Americans by health care professionals – the Tuskegee Study is one example.
"The ACCESS Program is encouraging future nurses to embrace diversity, provide culturally competent compassionate care, and lead healthcare in the elimination of healthcare disparities for all patients to receive equitable care," said ACCESS Program Director, Kendra Elam, BSN '04, who has been with the program since its inception over 10 years ago."Financial support for the program promotes students' retention in the nursing program, reducing or eliminating the need to work so students can focus on their academics," Elam added, "This also helps with nursing shortage and increases diversity in nursing."
The Lachers are adamant about making change in present time. With their support, more opportunities will be made available for underrepresented students in the upcoming academic year."I want to help in the 'right now' and thought about who I could help the most," said Dr. Lacher.
The college would like to thank Dr. Jane Lacher and her husband, Ronald, for the tremendous impact they have made.