COVID-19: Click on the following link for more information on MSU's response to the COVID-19 pandemic.
News
Alumni Feature: Ashley Meyers, BSN '08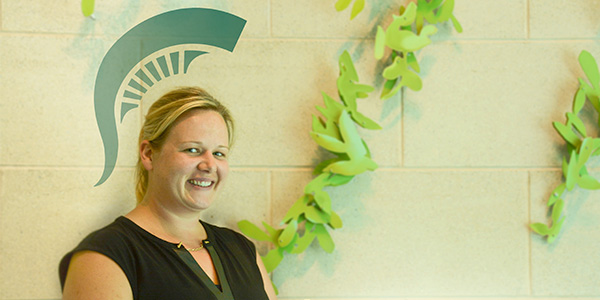 Ashley Meyers, BSN '08, knew from a young age that she wanted to work in the health care field. Frequent trips to work with her grandmother at McLaren Greater Lansing gave Meyers a real taste of what working in a hospital setting was like.
Following her graduation from Portland (Michigan) High School, Meyers enrolled in pre-medical studies at Michigan State University, an endeavor that quickly changed when she learned organic chemistry was a required course.
"Organic chemistry scared me, so I changed to pre-nursing and shortly after, it was added to our curriculum" she said.
As it turns out, Meyers earned a 4.0 in organic chemistry and built her passion for nursing along the way. Meyers credits her professors at the MSU College of Nursing for providing a top-notch education and holding her at the highest standard, particularly Dr. Susan Strouse.
"I remember her being passionate, dedicated, and most importantly, she challenged me," Meyers said. "When I look back over the past 10 years, her ability to teach problem-solving skills has played a huge role in my growth and understanding of nursing."
Dr. Mildred Horodynski, professor emerita at the College of Nursing, also served as a mentor to Meyers.
Following graduation, Meyers was placed in the critical care unit at Henry Ford Allegiance Health in Jackson, Michigan, a role that is not typically given to new graduates. This experience at a busy hospital propelled her to a position in the cardiac unit at Sparrow Hospital in Lansing. There, Meyers' knack for teaching was recognized as she was offered the job of a critical care nurse educator, a position that she still holds. No two days are the same in this role as it stretches from classroom and clinical teaching to policy writing.
As a Spartan Nurse, Meyers has gone above and beyond her everyday duties, she works with the American Society for Pain Management Nursing (ASPMN) and is the principle investigator with a research study titled, "Risk Stratification for Opioid-Induced Respiratory Depression." Meyers is also currently collaborating with pain management nurse leaders within Michigan to form a Great Lakes Chapter of within ASPMN.
Having also been part of a task force at Sparrow Hospital that focused on the opioid epidemic, Meyers was charged with representing her nursing constituents. In a meeting with the task force, Meyers expressed the difficulty of disposing her grandparent's expired medication; this sparked the founding of a 24/7 drug drop off at Sparrow Hospital, which is now available at several locations throughout the state of Michigan.
"A Spartan Nurse is brave, inspiring, and transformational," Meyers said.