COVID-19: Click on the following link for more information on MSU's response to the COVID-19 pandemic.
News
Alumni Feature: Julie Thomas-Beckett, BSN '86, MSN '91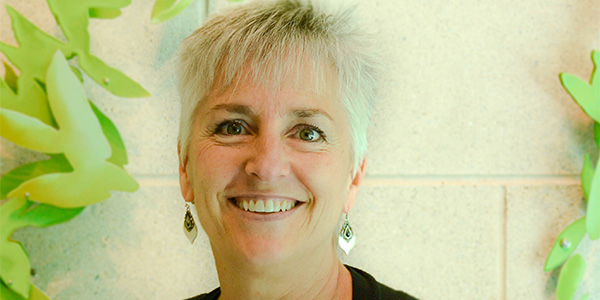 "I precept so I can give back," says Michigan State University College of Nursing alumna Julie Thomas-Beckett, BSN '86, MSN '91. She has been precepting and influencing aspiring nurse practitioners since 1993, and many of her pupils are Spartan nurses.
The opportunity to precept is the ability to pass on wisdom, Thomas-Beckett says. The role of a nurse practitioner (NP) encompasses every aspect of patient care, which is why Thomas-Beckett believes it is important for every NP to develop their own brand of health care.
"I try to role model my 'brand' of health care. How I listen, teach, act and counsel patients is all part of my style, my brand," she said. "When people say my name, they expect a certain level of care. I try to help each student understand they are creating their own brand as well."
With patients ranging from cradle to grave, the past 28 years of providing care has given Thomas-Beckett an arsenal of knowledge for her to share with preceptees. Checking boxes is not how she treats patients, rather, a large part of her of work is focused on the importance of recognizing the patient as a unique individual, a value she instills in her students.
She suggests the first question students should ask themselves when meeting a patient is how can they support their health?
"The world is complex in a way that it wasn't before," Thomas-Beckett said. "There are many more stresses and people feel those stressors more acutely, which impacts their health.
"People are striving for self-actualization and a higher-sense of purpose at a much younger age. With skills in addressing people as bio-psycho-social-spiritual beings, NPs are highly qualified in partnering with patients to achieve their optimal health."
For 13 years, Thomas-Beckett has worked in equal partnership with two other physicians at McLaren Primary Care Partners, as she specializes in family medicine, specifically with bio-identical hormones and functional medicine. She strives to play her part in strengthening the Spartan Nurse Practitioner "brand" every day.
While sharing this wisdom through precepting, Thomas-Beckett finds working with students to be rewarding.
"Precepting keeps me fresh and grounded, it's an opportunity to live my values by supporting the next generation of NPs," she said.
One of the most rewarding parts of Thomas-Beckett's work comes in the Spring when her mentees are ready to graduate with their advanced degree. She describes it as the time of pushing them out of their nest.
"There's a lot of wisdom that comes from experience," she said. "I try to role model that wisdom and share it with my students."