COVID-19: Click on the following link for more information on MSU's response to the COVID-19 pandemic.
News
Alumni Feature: Susan Havens-Lang, BSN '69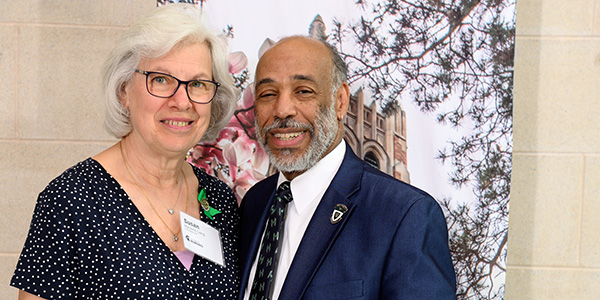 If it wasn't for her father, Susan Havens-Lang would have ended up at a three-year nursing program instead of Michigan State University.
"He was so adamant about me attending MSU, regardless of the financial strain it would have on the family," Havens-Lang said.
It was an interview between her family and the former dean of the College of Nursing, Gwendoline MacDonald, which solidified her place as a future Spartan nurse.
"I remember my dad saying, 'That's it, this is where my Suzy is going.'" And so it was, Havens-Lang left the small town of East Grand Rapids to attend MSU and pursue her childhood dream of becoming a nurse.
Her arrival to MSU expanded her mind – she attended concerts as well as football and hockey games while studying every chance she could. Her fear of not getting accepted into nursing school was a huge motivator as she watched three of her freshman roommates not return to the nursing program after their first year.
Following the completion of her nursing degree, Havens-Lang began working at the University of Michigan Medical Center in the Intensive Care Unit. During this time, she realized that her superior education had given her the pillars to succeed as a nurse.
"I found my purpose to why I was doing something... MSU really transformed my life and career," Havens-Lang said. "I was able to work 45 years full-time as a nurse with one, six-month break to raise my daughter."
It was this passion for nursing that gave Havens-Lang the drive to complete a clinical specialist master's program at Wayne State University in 1975. She then made a big move to the New York metropolitan area where she worked in a specialty care unit at the Hackensack Medical Center. The experience in teaching patients that followed over the next five years led her to the field of homecare nursing. In 1981, she made the shift to Medicare-certified home health agencies, a field that involves treating patients with chronic conditions.
As the healthcare field evolved, specifically in home health agencies, she transitioned into hospice care where she spent 15 years. This work gave her life experience that she could not have gained anywhere else.
"It's indescribable; I feel that every patient gave me so much more than I was able to give them," she said.
For example, while working in Rockland County, New York, Havens-Lang had a number of patients that were survivors of the Holocaust.
"It brought me to tears every day," Havens-Lang recalled, "but it was so beneficial for myself and gave me the ability to change and grow."
Her experience in hospice was reflected in her personal life as she has provided care for her own parents and the spouses of her closest friends.
"It's such a tender time and that's my commitment to my friends, career, and even my own being," she said.
Now in retirement, Havens-Lang keeps very busy as she volunteers in local organizations and babysits her grandchildren. She adds, "I need to do all the reading I never did."
The College of Nursing would like to thank Susan Havens-Lang for her close to 50 years of impact to the nursing field.