News
Alumni spotlights: Standing up for the CNS and patients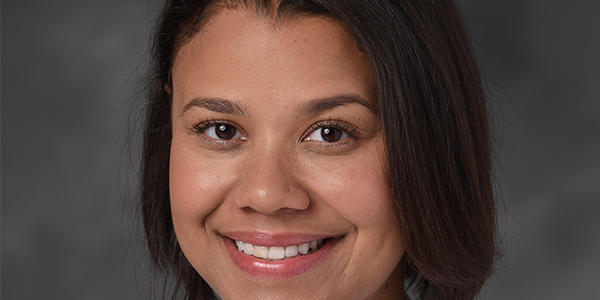 Angela Floyd, MSN '19
It wasn't too long ago that the State of Michigan gave title protection to clinical nurse specialists (CNS). So, what does this mean?
A CNS can now work under the classification of an advanced practice nurse (APN), which grants them the ability to practice to the fullest extent of their license. Although the law has been modified, hospitals have been slow to utilize their CNSs in the most effective way for patients. The transition from law to application in the field has been a challenge, to say the least.
Angela Floyd, MSN'19, and a clinical nurse specialist, has been leading the charge for CNS privileges at Henry Ford Hospital in Detroit.
"Hospitals have changed their policies, but it hasn't changed what we can do," she says.
The changes that Floyd is spearheading for CNSs include the ability to write orders, prescriptions, and direct consulting services for patients. To make this happen, Floyd has formally requested that the hospital evaluate the situation and perhaps form a task force to determine how to operationalize the alteration in law.
Floyd credits her education at the Michigan State University College of Nursing for giving her the ability to recognize the need for change.
"I was taught to go for everything that I'm entitled to as a CNS," Floyd said. "When I came into practice, I realized that the laws say I should be doing one thing, but I wasn't allowed to practice it."
Faculty members Drs. Kathleen Poindexter and Jackie Iseler have been instrumental in Floyd's learning, especially now that she onboards ICU nurses and has recently become an instructor at the college herself.
"Dr. Poindexter taught me how to develop organized formats and teach effectively," Floyd noted, "while Dr. Iseler inspired me to be different and to always be passionate about what I do."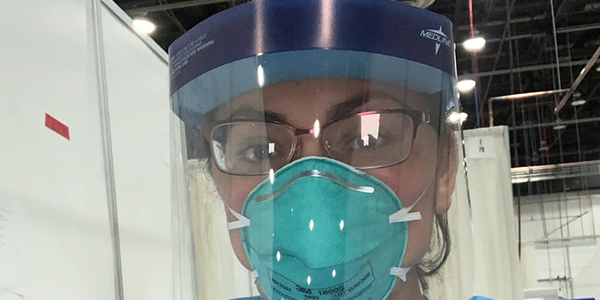 Rosie Woodruff, MSN '18
Rosie Woodruff, MSN '18, lives in Kalkaska, a small village located 24 miles east of Traverse City, Michigan. However, when she received a call on a Friday that her services were needed in downtown Detroit that weekend, she didn't think twice, hopping in her car and traveling the three hours. As a first lieutenant in the National Guard, Woodruff was asked to serve at a 900-bed facility that was set up at the TCF Center, formerly known as Cobo Hall.
For six weeks, Woodruff utilized her skills as a nurse practitioner to treat mildly ill patients.
"We spent our time monitoring their symptoms, but with only having oxygen capabilities, we sent worsening cases to the hospital," she says.
In a time of distress for the city, Woodruff was impressed by the amount of support from the public.
"There were so many different businesses offering food and other services to make us comfortable," she recalled. "It was great to see the community come together. I'm glad that I did it. Not everyone gets that type of experience and it taught me so much."
Because of Woodruff's selflessness, she was featured in a display of first responders and essential workers in the "Acts of Care" display at the MSU Broad Museum this fall. In addition to answering the call, the Michigan State University College of Nursing would like to thank Woodruff for her service in the National Guard.