News
Back for seconds: From BSN graduate, to Dr. Miller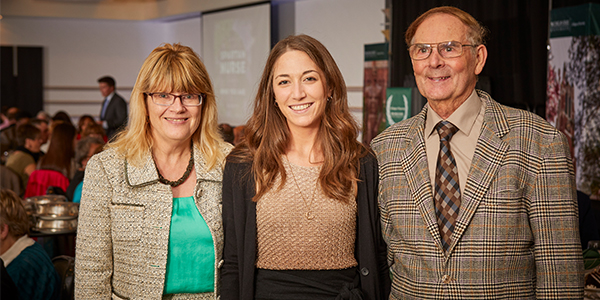 After working with Dr. Gwen Wyatt on symptom research with cancer patients as a BSN student, Megan Miller knew even as her undergraduate days were coming to a close, her time at the Michigan State University College of Nursing was only just beginning.
Miller was quick to enroll in the BSN to PhD program at the college, which allows those with an undergraduate nursing degree to proceed directly into the doctoral program.
"Working with Dr. Wyatt in my undergraduate days grew my interest in cancer symptom science, and in research overall," Miller said. "When I joined the PhD program, I knew I wanted to continue working with Dr. Wyatt and was fortunate to also begin working with Dr. Rebecca Lehto, whose research focuses on psychological adaptation to cancer."
Miller — previously known as Megan Flanigan — spent the next five years learning the skills she would need to be a successful nurse scientist, while focusing her dissertation on pain management for women with advanced breast cancer using a complementary and integrative health perspective. Her research features a "mixed-methods" approach, including a literature review, quantitative secondary analysis and qualitative study as a lens to examine how spirituality may provide support for women who are facing pain.
It's been a long road but, as of this spring, you can now call her "Dr. Megan Miller."
"At times, the stress of being a full-time PhD student, holding a job and maintaining a balanced life was very challenging," Miller said. "Each time I was faced with difficulty, I took time to reflect and re-connect with the fact that participating in nursing science is aligned with my highest goals for myself. Connecting to the bigger picture of why I am on this journey has been especially helpful when facing challenges throughout the program."
Wyatt, a professor in the college who has been there along the way to help Miller reach her goals, said she has more than earned her degree.
"Megan really serves as a role model for the ideal BSN to PhD student," Wyatt said. "She has continually added to her research skill set as her knowledge base expanded. Her dissertation work followed the interest she established early on – end of life care, symptom management (especially pain) and spirituality."
Miller's commitment and persistence has paid off: She is off to the University of Wisconsin-Madison to begin a postdoctoral research associate position, which will allow her to continue building her program of research focused on cancer symptom management through the use of complementary and integrative therapies.
Her time at the MSU College of Nursing has prepared her for whatever comes next, Miller noted, adding she has learned valuable time management skills.
"My time at the Michigan State University College of Nursing has provided incredible opportunities for personal and professional growth," she said. "With each new challenge, I was faced with the opportunity to cultivate skills and resources in myself which have helped carry me forward in my research career. I commend the team of mentors who have helped connect me with abundant opportunities for growth and encouraged me along the way."