News
On the banks of the Red Cedar: College to host first in-person commencement ceremony since 2019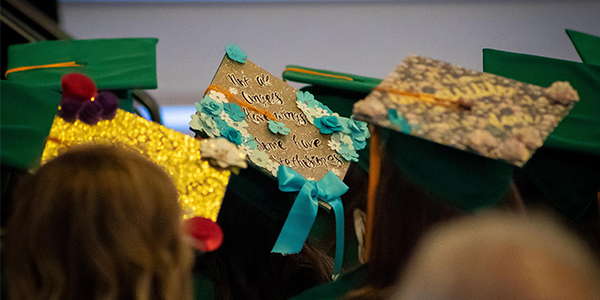 For the first time since the COVID-19 pandemic raged throughout the United States, the Michigan State University College of Nursing is hosting an in-person commencement ceremony for its BSN graduates. The ceremony will be held outdoors, a first in the college's history, outside Erickson Hall at 5 p.m. April 30.
The ceremony will be held in line with the Michigan Department of Health and Human Services regulations on outdoor events, which means that the ceremony will be limited to a maximum of 500 people. Of the attendees, 83 will be graduating students who are additionally granted two guest tickets each. Some faculty members will also be in attendance. All guests must register ahead of time for the event and complete a COVID screening before arrival. The graduation will be live-streamed for those unable to attend.
Safety for all students, guests, faculty, and workers is of the utmost priority. In addition, all guests will be required to wear a mask and maintain appropriate social distancing. Hand sanitizer stations and sanitized portable restrooms will also be available throughout the area.
If it begins to rain, the ceremony will continue and everyone on stage will be provided large umbrellas. However, in the event of inclement weather, the ceremony will be cancelled and the college will work with the commencement office to provide an alternative.
Students will be able to walk across the stage, but unlike a normal ceremony, the students will not be pinned or be able to shake the dean's hand. Dr. Kathy Bobay, MSN '94, the current vice president for the MSU College of Nursing Alumni Association, will be the keynote speaker for the ceremony.
Despite this not being the commencement ceremony these graduates were expecting when they arrived at the College of Nursing, they are grateful for the opportunity to celebrate their sacrifices and hard work in front of their fellow classmates, friends, and family.
"The past year has been so hard for many people in many different ways," said Emily Gallagher, who will be one of the 83 students graduating. "Being able to have an in-person graduation ceremony means so much to me and my peers after four years of hard work. I think a lot of us appreciate being able to celebrate with our loved ones even more now than ever before."
MSU College of Nursing Dean Randolph F.R. Rasch knows how important an in-person graduation ceremony is to these students and is excited to announce their names on stage once again.
"I'm extremely excited for these students who will have the opportunity to graduate on campus in front of their friends and family," Rasch said. "All of our graduates have worked extremely hard for this moment and they deserve this opportunity to walk across the stage. We're doing everything we can to provide an unforgettable ceremony for our tremendous students while keeping everyone's safety as the highest priority."