News
Buchholz, national subcommittee to tackle physical activity in older adults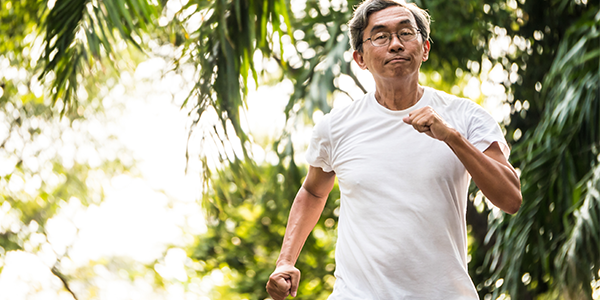 Associate Dean for Research Susan Buchholz will join 10 others from across the country in addressing physical activity among adults who are older as part of a subcommittee of the President's Council on Sports, Fitness & Nutrition.
Buchholz is the only nurse and representative from the state of Michigan on the subcommittee, which is tasked with looking at and summarizing the evidence and suggesting strategies to improve physical activity among older adults. Currently, only 13.9 percent of adults older than 65 years meet the recommendations for aerobic and muscle-strengthening activity.
"Nurses are working one-on-one with patients at the bedside, in clinics, and in the community, so we see people across the continuum of care and have a strong understanding of where people are coming from in their lives regarding their health," Buchholz said. "We talk about different strategies that make it easier for people to be healthy, including being physically active."
The subcommittee will build upon existing physical activity guidelines for Americans, last updated in 2018. Buchholz said this group's work will serve as a check-in to ensure the best practices are being suggested and followed for use by healthcare providers, researchers, educators, and policymakers, that are committed to promoting health of adults that are older.
In the most recent guidelines, suggestions for adults 65-and-up include focusing on aerobic physical activity, recommending spending 150-300 minutes per week on moderate-intensity physical activity or 75-150 minutes per week on vigorous-intensity physical activity (or combining these two levels of physical activity). It is also recommended to participate in muscle-strengthening exercises at least two days a week and include balance training.
The first place Buchholz and the group will likely look to is recent research from the World Health Organization, although members will comb through stacks of articles and publications to synthesize and aggregate data. The subcommittee is expected to meet through the early fall, when it will present its findings to the larger council.
Buchholz, who is also currently president-elect of the National Organization of Nurse Practitioner Faculties, said she received support from Professor Emeritus Gwen Wyatt and professional nursing organizations to pursue sitting on this national subcommittee. Buchholz's research throughout her career has centered heavily on physical activity and cardiovascular outcomes, as well as the use of mobile health technologies to encourage physical activity.
Buchholz follows other Spartans who have sat on various groups and subcommittees with the council, including, most recently, the Department of Kinesiology Interim Chairperson Karin A. Pfeiffer and former department chair Alan L. Smith.
"I'm very excited to be a part of this subcommittee, and I am thrilled to represent the Michigan State University College of Nursing," Buchholz said, adding the group has already met once. "It is important to keep adults active, and even more so as they move into their 60s, 70s, 80s, and beyond."