News
Clinical Nurse Specialist Week: Highlighting alumni and faculty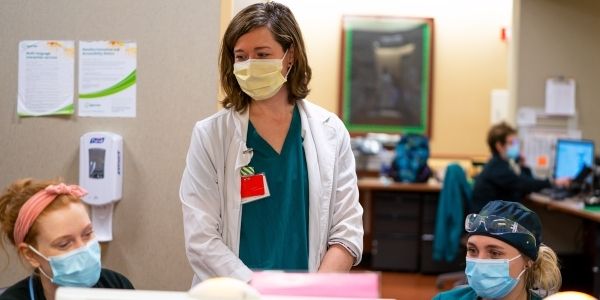 Clinical Nurse Specialist Week is September 1-7, and the Michigan State University College of Nursing is celebrating by highlighting some of its faculty and alumni.
A CNS is an advanced practice registered nurse whose focus is to optimize clinical quality, patient and staff safety, and outcomes for patients and their families.
Learn more about the college's clinical nurse specialist program here.
Angela Floyd: Rebuilding trust in the health care system
Angela Floyd, MSN '19, RN, AGCNS, CCRN, is a clinical nurse specialist at Henry Ford Hospital in Detroit and instructor for the college.
She hopes by adding diversity to her field, Black Americans will be less skeptical and receive a much more holistic approach to their care, resulting in better patient outcomes. READ MORE.
Rachel Justice: Applying evidence-based practice
Rachel Justice is a recent post-masters DNP graduate and clinical nurse specialist at Sparrow Hospital in Lansing.
"I bridge the gap between providers and our nursing staff so that they know what they need to and so we are supporting those patients to ensure they get the care they need," Justice said. READ MORE.
Jackeline Iseler: Improving patient outcomes
Jackeline Iseler, DNP, RN, ACNS-BC, CNE, is a clinical nurse specialist with Sparrow Hospital, assistant professor and oversees the college's CNS program.
She is currently president of the Michigan Association of Clinical Nurse Specialists and serves on the Michigan Board of Nursing as the clinical nurse specialist representative.
Iseler has worked as a cardiovascular CNS and helped build the heart and lung transplant, and ventricular assist device programs at Spectrum Health in Grand Rapids. READ MORE.
Stephanie Mullennix: Reducing West Michigan's opioid crisis
Stephanie Mullennix, MSN '18, has spent 19 years in emergency care. In her current role as Director of Clinical Practice, Quality and Integration at Emergency Care Specialists, the focus of her clinical work is on the impact of the opioid crisis in West Michigan.
In 2020, Mullennix was named a winner of Grand Rapids Magazine's Excellence in Nursing. READ MORE.