News
College to expand, add tech to sim lab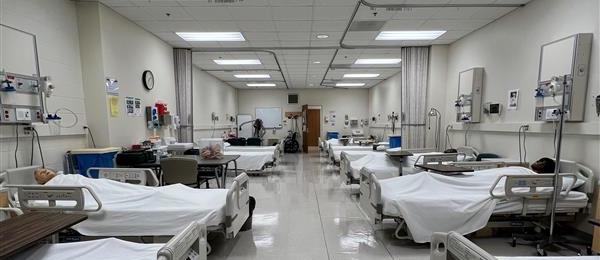 Over the summer, the college received university approval to expand the Granger Lab to 8,000 square feet, an expansion of 2,400 square feet. The hope is to repurpose old spaces and freshen them up with new flooring, paint and state-of-the-art equipment like manikins. The college is still working on a date for the delivery of the technology.
Andrew Greger, the college's interim director of support services, said the expansion as possible through what the university calls "Teaching and Learning Environment funds," which act like a grant. The college proposes how the money would be used — in this case, technology — to show how it would improve the clinical space.
While navigating the university's next decisions about physical lab space, the college works to continue to advance its technology to educate students.
"Being able to get state-of-the-art equipment that can be transported keeps us at the cutting edge here at the college," Greger noted.
"The university is still working out how Health Sciences lab spaces are going to be renovated, so in the meantime, we can do this small upgrade and make our space flexible and moveable. Simulation is the way nursing education is going. This additional space helps us expand our program but also gives students more time to practice their skills in a permanent space."
Interim Dean Dr. Leigh Small said she is excited to see these modifications, which are the first of many future improvements the college will recognize in simulation.
"Simulated clinical experiences are key to student preparation to be effective in fast paced, high-acuity healthcare settings," Small said. "These changes have been possible through the coordination of requests for equipment, and ardent negotiations for positions and environmental changes that have been collaboratively championed and continue to be my priority."