News
Researcher teams up with Sparrow Hospital for program to mitigate food insecurity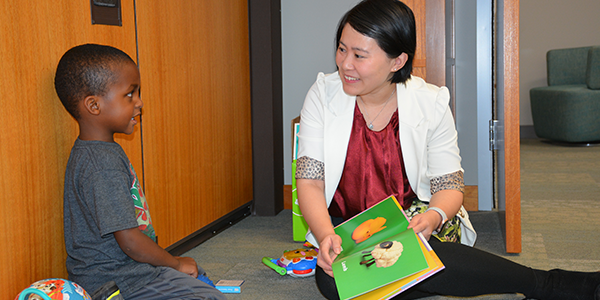 With help from a Michigan State University College of Nursing associate professor, a Sparrow Health program will address and mitigate food insecurity in mid-Michigan.
Jiying Ling, PhD, RN, is collaborating with the health system to assist pregnant women and their families who are food insecure. The Michigan Health Endowment Fund has provided $200,000 to the initiative.
Participants in the program will complete a survey two times and receive a crockpot, a cookbook, and some groceries from a Lansing-area food bank. They will also receive motivational text messages and learn healthy eating tips three times a week for 10 weeks.
The collaboration came about in part due to Ling's involvement in past similar projects. She developed the "Tasty Healthy Cookbook" for Head Start families in 2016, and it has since been adapted for pregnant women and their families.
"The focus is on pregnant women because the food they eat can have some effects on their babies and new mothers might not have much time to cook," Ling said.
Tonyie Andrews-Johnson, DNP, BSN, RN, C-EFM, HN-BC and director of women's services at Sparrow Hospital, said a goal is help improve maternal mortality and morbidity.
"A women diagnosed with diabetes during pregnancy has a higher chance of developing diabetes later in life," Andrews-Johnson said. "This is a great opportunity to introduce moms and their families to healthy eating."
Ling said the collaboration is a great match, as it's aligned with her research and the population for this program is like those she has worked with in the past. Some of Ling's research has included helping Head Start preschoolers establish healthy lifestyles by actively engaging their families.
Head Start is a U.S. Department of Health and Human Services program that provides early childhood education, health, nutrition and parent involvement services to low-income children and families.
"From Head Start to Sparrow Hospital, we are expanding the work from the community to the clinical settings," Ling said.
The original goal of the project was to target about 20 families, but that has expanded with the addition of the grant from the Michigan Health Endowment Fund. A long-term goal is to include more patients beyond pregnant mothers and their families. Participants are now being recruited and may visit this link to enroll.