News
College sets safety measures for fall semester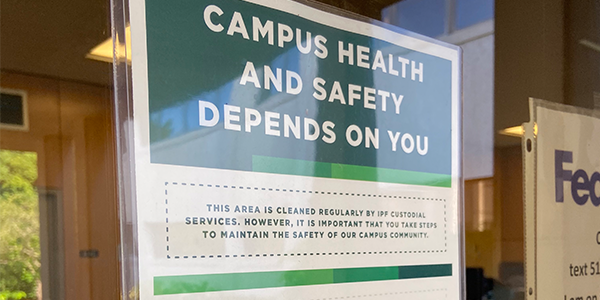 The fall semester is just getting underway, but faculty and staff at the Michigan State University College of Nursing have been planning for months to ensure a safe environment for employees and students as the COVID-19 pandemic lingers.
For starters, this semester, only Nurse Anesthesia and Ph.D. students will have traditional in-classroom courses; however, students from across various programs will continue to come to Life Science and the Bott Building for Nursing Education and Research to engage in crucial simulation work in the labs and classrooms. Overall, the number of students moving about the campus will be greatly reduced in hopes of minimizing COVID-19 exposure while still ensuring students receive the required experiences and education as mandated by law and accrediting organizations.
These changes, among others listed below, were outlined in a detailed "Return to Work Plan" that was shared with all college employees last month.
"The college was fortunate, in that it was already set up to deliver many courses in an online format," Dean Randolph Rasch said. "For those courses that were not already online, I want to applaud our faculty and staff, who have been working tirelessly to keep up with an evolving situation. Their hard work will help minimize COVID-19 exposure to their fellow peers and our students."
Signage and space
For those who do have to come to campus, they will likely notice lots of additional signage, including encouraging mask and/or face shield wearing and six feet or more of social distancing.
Certain common areas, including some seating in the Bott atrium and second floor of Life Science, have been blocked off to discourage congregating, and limits have been placed on the number of students allowed in any one classroom.
Health screenings and hygiene
All students and employees are required to fill out a health screening questionnaire prior to coming to campus, and faculty and students are also required to fill out a sperate form for going to off-campus clinical sites.
Meanwhile, Custodial Services will continue the increased cleaning of touch surfaces in all college common areas with a goal of at least two cleanings a day, while employees are asked to wipe down their own areas at least two times a day. All visitors to the college are required to wash or sanitize their hands upon entry, and faculty, staff and students will assist with disinfecting lab space once done.
Faculty and students will be required to wear surgical-grade face masks and, as needed in simulation, face shields both on campus and at the college's dedicated space at Detroit Medical Center.
All in all, it's been a busy summer and getting ready for the new semester has been no easy task, but Rasch said he is confident the college is well positioned to move forward.
"This is new terrain for everybody, so I want to thank our employees and students for their patience," Rasch said. "Nurses are needed more than ever, so we cannot ease up. Together, we will make it through this and ensure we continue to educate and graduate the next generation of nurses."