News
College welcomes two new associate deans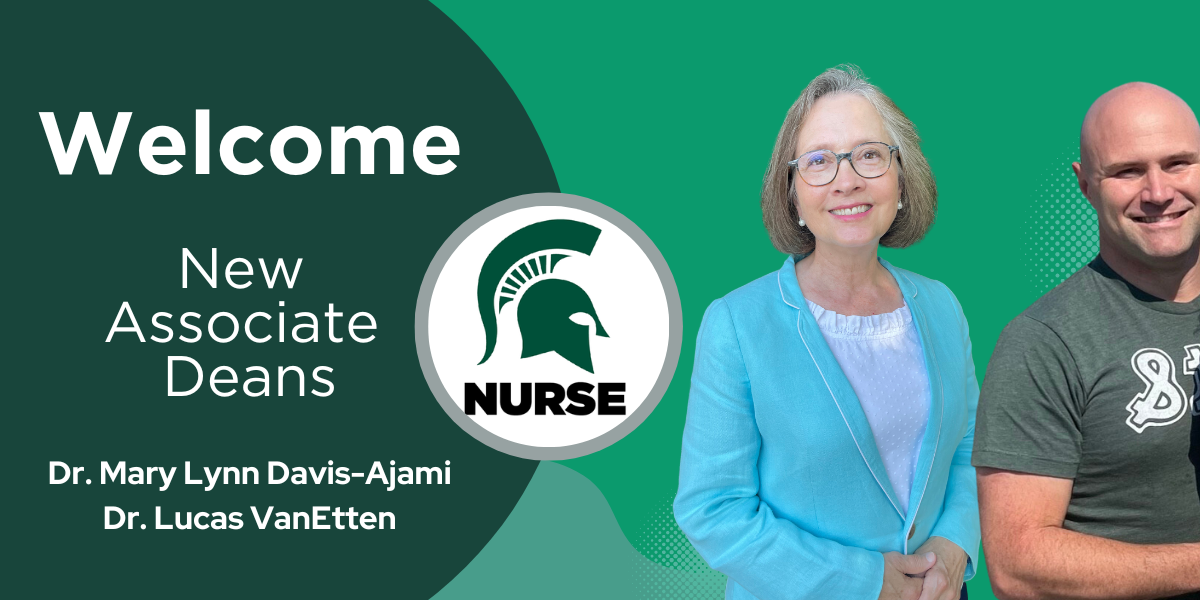 The Michigan State University College of Nursing is pleased to welcome two new associate deans to its senior leadership team. Dr. Mary Lynn Davis-Ajami, PhD, MBA, RN, FNP, will start in her role as associate dean for academic affairs on July 14. Dr. Lucas VanEtten, PT, DPT, MBA, will begin as associate dean for college performance and professional learning on July 10.
Davis-Ajami is a nursing education leader with more than four decades of experience, dozens of published articles and over $1.3 million in funded research. She brings more than 45 years of experience — the past 15 years spent in higher education — including, most recently, as chair of the Department of Nursing at Merrimack College in Massachusetts. As associate dean, she will oversee the educational programs and curriculum for the undergraduate and graduate programs.
"Dr. Mary Lynn Davis-Ajami brings an impressive combination of experience as an educator, researcher and nurse practitioner to this critical position in the college," Dean Leigh Small said. "Her experience will be instrumental in transforming the college's academic programs, through her support of faculty, growing student enrollment and strengthening partnerships with our clinical partners."
Prior to joining Merrimack College, Davis-Ajami was an associate dean at the Indiana University School of Nursing in Bloomington, and, before that, in various positions at Virginia Commonwealth University, the University of Maryland, and the Ohio State University. She is also a research economist for the National Bureau of Economic Research and brings decades of clinical experience.
"I am excited to support the MSU College of Nursing's growing nationally ranked programs, provide leadership for the faculty, and expand partnerships with the Henry Ford Health system, among others," Davis-Ajami said. "We have so much opportunity to transform nursing practice and enhance nursing's influence to improve health outcomes across the state."
Dr. Kathleen Poindexter, who served in the interim role during the search process, will assist with Davis-Ajami's transition over the next three months. Poindexter will be transitioning back into her prior role as assistant dean for undergraduate education.
"I want to thank Dr. Poindexter for her commitment to providing stability and continuing to advance the curricular discussions regarding the new competency-based education strategy we will be implementing," Small said. "Her passion for nursing education and the success of our students is greatly appreciated."
Meanwhile, VanEtten most recently served as assistant chief for Physical Medicine and Rehabilitation at the Malcolm Randall Veterans Affairs Medical Center in Florida. While there, his efforts focused on finding cost efficiencies and implementing strategic operations, including performance assessments. Prior to that position, he spent eight years at the Ohio State University.
In his new role, VanEtten will provide leadership and strategic planning for tracking and trending the college performance on key metrics linked to the college's strategic plan and primary initiatives. Additionally, he will oversee the operations and manage the modifications of the clinical skills lab, track and trend simulation student learning outcomes, as well as the college's vibrant professional education program.
"Dr. VanEtten's background in organizational performance analyses as well as his experiences finding efficiencies through technology support will reduce redundancies and strengthen everyone's productivity in the college, which will be instrumental as we continue to grow as a college," said Small.
VanEtten, BS '06, said it's an "incredible honor" be coming back home.
"My family and I are so thrilled," VenEtten said. "I'm incredibly excited to be a part of the College of Nursing community and getting to know everyone."