COVID-19: Click on the following link for more information on MSU's response to the COVID-19 pandemic.
News
Dean tapped to lead statewide implicit bias task force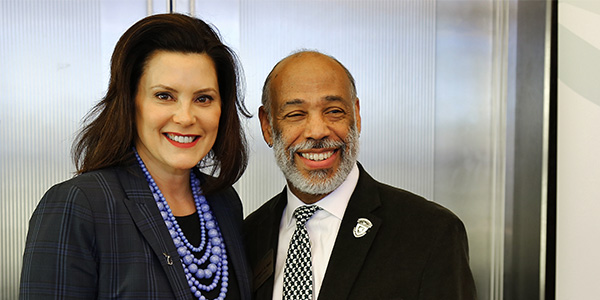 A new initiative led by leaders at the Michigan State University College of Nursing and Detroit Medical Center will address health disparities among women of color throughout the state.
According to the state, black women are three times more likely than white women to die of pregnancy-related causes. A large factor has to do with ingrained biases among health care professionals, who can sometimes discount their patients' needs based on their own experiences — or lack thereof — with individuals from different backgrounds.
That's why Governor Gretchen Whitmer has asked the college and Detroit Medical Center to lead the initiative, called "Healthy Moms, Healthy Babies," which she announced during her 2020 "State of the State" address.
"We need our medical professionals, and our future doctors and nurses, to be aware of bias and root it out, so we can promote equity in outcomes for every mom and every baby," Whitmer said during her address to the State House and Senate. "So, here's the bottom line: The health of our state is only as good as the health of our residents."
Rasch said it makes sense for nursing to lead the way on this interdisciplinary effort, which will address how to include implicit bias training in the curriculum.
"It is a great honor to be selected by the governor to co-lead this important task force," he said. "This partnership reinforces the land-grant mission that Michigan State University was founded on, working to better the lives of those in our state."
While details are still being sorted out, Rasch said he is looking forward to the challenge.
"In many ways," Rasch said, "it takes me full-circle to when, as a public health nurse in Benton Harbor, Michigan, a large part of my caseload were the types of women and children covered in the governor's plan."
Check back to this website for more details on this initiative as it is rolled out.