News
Destigmatizing Death: Sarah Smid, BSN '17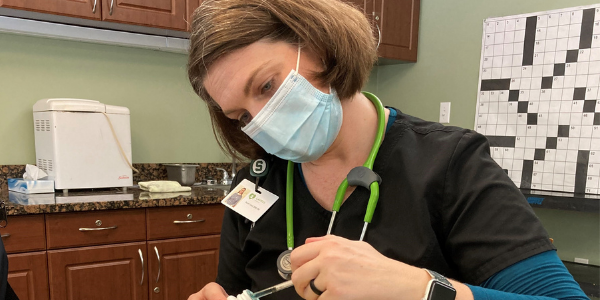 For the past year, Sarah Smid, BSN '17 has been working at CorsoCare Hospice in Lansing, Mich. After 15 years of health care and research experience under her belt, Smid chose to pursue a career change in nursing after receiving training that emphasized the core nursing philosophy of focusing on the person and not the disease.
While enrolled in nursing school, Smid described a few key events and feelings that led her to pursue hospice nursing. Losing her father to a terminal diagnosis, young son of a friend and her grandmother's death shaped Smid's perspective of life, death and terminal illness within the health care industry.
"Modern medicine has taught us how to fight death, but it's done nothing to teach us how to gracefully accept it - and regardless of disease, death is the only inevitable option – eventually," Smid continued, "There's something beautiful about getting older, and our culture doesn't appreciate it anymore. I feel honored to take care of people who are at the end of their life."
Smid breaks down her day-to-day care philosophy into two parts: observation and education. Observation consists of spending time attending to her patients and keeping them comfortable. Education is a bit trickier, as Smid described the unique process of learning to tell a patient that they are dying.
"I learned that sometimes the families did not allow the patients to know they were dying. I learned to say: Do you realize that you're dying? How do you feel about that? The majority are relieved, and they thank me."
According to the University of Washington Department of Bioethics and Humanities, 90 percent of patients surveyed said they would want to be told of a diagnosis of cancer or Alzheimer's disease. A multitude of studies of physician attitudes reveals support for truthful disclosure.
Smid emphasized "It is important for them to acknowledge that they are in the last chapter of their lives, often it brings them peace, and allows them to relax. Acceptance is part of the process, their families not telling them the full truth can sometimes rob them of this."
Smid brings personal faith to her job every day, explaining she is not there to attempt to change or fix any of the beliefs of her patients. However, she uses her own beliefs to offer support and humility to patients no matter what they believe in. She notes this philosophy has never been an issue, even for patients who are non-believers.
"No feeling or idea of what's coming next to take comfort in can lead to a less peaceful end. Even if we're wrong in our beliefs, there's still comfort to take in them."
Like many other health care settings, COVID-19 has set the stage for a challenging time for Smid and many other hospice nurses to provide their patients with a comfortable passing.
Quarantines for sick patients limit the ability for family members to say goodbye. Many patients had a challenging time understanding what was happening, or why they suddenly had to wear masks and face shields, or that an illness was also impacting their family and the entire world.
Smid works hard to destigmatize hospice care, educating other nurses about the importance of bringing quality of life care to a hospital setting and the difference small acts of care can have when improving the quality of life for dying patients. Smid credits the Michigan State University College of Nursing for providing her with the confidence and quality education to execute her job.
"There's a lot of pride that comes with being a Spartan Nurse, there's a certain level of leadership and quality that are associated with it. I love being a Spartan Nurse. In school, I knew we were the next generation of leadership within the nursing field."