News
Dr. Buchholz named president of national nursing organization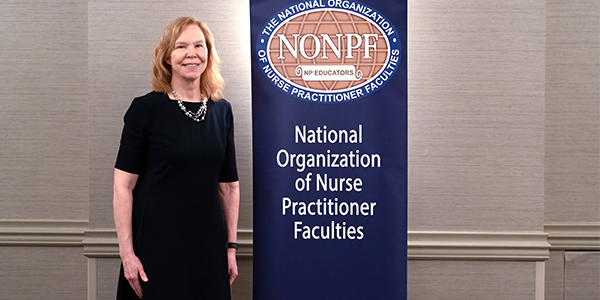 An administrator with the Michigan State University College of Nursing is now leading one of the premier nursing education organizations in the world. Earlier this month, Dr. Susan Buchholz, associate dean for research and director of the PhD program, stepped into a two-year term as president of the National Organization of Nurse Practitioner Faculties (NONPF).
As the leader in nurse practitioner (NP) education, NONPF aims to optimize quality and cultivate leaders in NP education. Buchholz will lead the organization's effort to advance quality NP education, influence policies and provide its 3,000 members with the resources to educate the future NP workforce.
When she was a new assistant professor at Purdue University Calumet, Buchholz had an opportunity to attend her first NONPF meeting. The dean sent Buchholz to NONPF to learn more information about the latest updates in nurse practitioner education.
"I will always be grateful to that dean for her foresight in doing that, as coming to NONPF and making many connections, quickly gave me a great foundation as a new nurse practitioner faculty member," Buchholz said. "My interest and work in the organization grew from that point onward, as I moved to Rush University, and then Michigan State University. I continue to grow and learn as an NP faculty member, including using many of the stellar resources that NONPF provides."
As an active member of NONPF, Buchholz served as the Research SIG Chair, then was elected to the Board as secretary from 2018-2020 for two years. She then transitioned to President-elect in 2021 and will service as president until 2024.
In the next two years, Buchholz aims to execute NONPF's strategic plan. She is committed to supporting the Doctor of Nursing Practice (DNP) as the entry-degree for NPs, expanding diversity in membership, and growing NONPF's capacity and mission-alignment. The overall goal is to prepare the next generation of NPs to meet the evolving healthcare needs of our nation.
"I am honored and humbled to be elected as president of NONPF," Buchholz said. "It is a stellar organization that is truly membership-driven, and I look forward to working with the CEO, Dr. Mary Beth Bigley, the fabulous office team, and many NP faculty across the nation, over the next two years."