News
Faculty member's trip to India opens opportunity for collaboration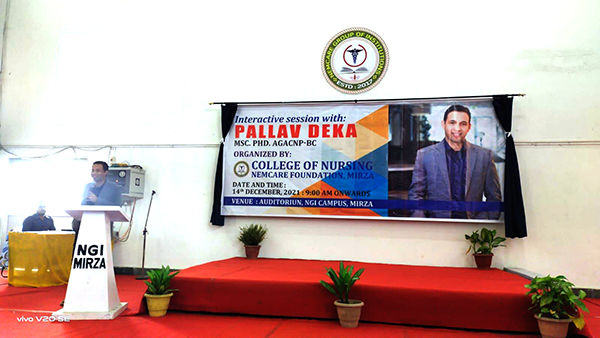 A Michigan State University College of Nursing faculty member's trip to India presented an opportunity for future collaboration between institutions in the country and MSU.
Dean Unmona Borgohain Saikia of Srimanta Skankardev Health Sciences University in India invited MSU College of Nursing Assistant Professor Pallav Deka to speak to students and faculty members from 14 different institutions from across the state of Assam.
Saikia, who is also the principal at the Asian Institute of Nursing Education, invited Deka to speak and interact with students and faculty. Students at the institute performed a song and a traditional Bihu dance in his honor. Deka also spoke to faculty and students at Assam down town University and NEMCARE Group of Institutions Department to interact with faculty and students as well.
One of Deka's priorities with the speaking engagements was to introduce students to the possibility of pursuing a career in nursing in the United States and to foster collaborative research interest.
He shared his personal journey as a student where he transitioned from a background in business administration to exercise science to nursing, his research trajectory where he highlighted some of his work, current projects and future ideas, and practice with Lansing-based Capital Cardiology as a nurse practitioner. The concept of a nurse practitioner is new in India. The overall nursing scope of practice is different between the two countries as nurses in the U.S., especially advanced practicing nurses, practice at a much higher level.
Deka spoke about MSU, the College of Nursing and its PhD and DNP programs in addition to ways to fund graduate education in the U.S.
"Finances are the biggest concern for most international students about studying in the U.S.," Deka said. "Most students in my state are unaware of opportunities for scholarships, fellowships and graduate assistantships."
Dola Pathak, Assistant Professor in the Department of Statistics and Probability at MSU and Statistical Consultant to the College of Nursing, accompanied Deka on the trip, taking about her role as a research consultant and implementation of big data in teaching and research.
The speaking engagements were Deka's first in India. In doing so, he hoped to find an opportunity for student and faculty exchange program as well as research collaborations.
"I think there is immense potential for student and faculty exchange programs between these institutions and MSU," he said. "Research collaborations can open opportunities for global research for nursing faculty at MSU and expertise at the college can help researchers out there address local healthcare related problems. MSU nursing students don't have firsthand knowledge of what problems patients face in India compared to in the United States. Students will be able to get a peek into the healthcare system in India and broaden their knowledge.
Deka said nursing students in the region of India he is from don't know about the possibilities of pursuing higher education in the U.S. In sharing his story, he is hopeful of a few motivated students applying to the PhD program at MSU.
"I am happy that there is mutual interest for such collaborations here at the College and among the administrators at the institutions back home" he said.