COVID-19: Click on the following link for more information on MSU's response to the COVID-19 pandemic.
News
Faculty, students honor Dr. King with blood drive, panel discussion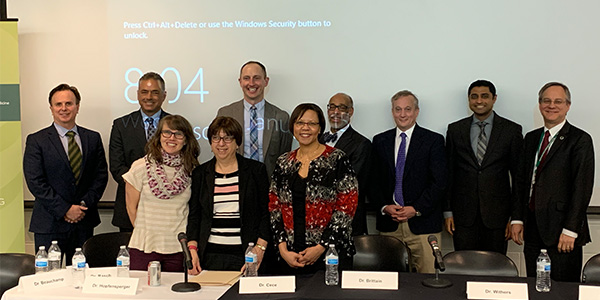 The Michigan State University College of Nursing honored the Rev. Martin Luther King, Jr. earlier this month through an engaging talk on increasing access to healthcare for all, as well a separate blood drive lead by students and the American Red Cross.
The former, a talk sponsored by the Colleges of Nursing, Human Medicine, Osteopathic Medicine and Veterinary Medicine, featured nursing's own Dr. Kelly Brittain and Dean Randolph F.R. Rasch, along with guests from the other colleges.
Brittain, an associate professor, said while many healthcare providers are doing important things to serve the needs of underserved populations, there is still much to do. This can include discussing how to educate health professional students to provide culturally competent care, how to have a holistic view of a patient in a fragmented health care system, and how to ensure that future health care providers reflect the diversity of MSU and the United States.
"Although we have some programs to address diversity and inclusion with respect to our students, these programs may not go far enough to recruit and retain a diverse student population," Brittain said. "While there are lectures that address cultural competence, lectures are certainly not enough to change how a person views someone from a diverse background, whether that is racial, ethnic or socioeconomic. However, MSU's health colleges are well positioned to make changes; through holistic admissions, unique clinical/internship placements and collaborating with community partners."
Brittain said the panel was a perfect opportunity to tie in Dr. King's message of social justice with inequality in healthcare.
Faculty were not the only ones honoring King's legacy. On Martin Luther King, Jr. Day, some nursing students took it as opportunity for a "day on" rather than a "day off," working with the local American Red Cross to organize a blood drive as part of the Winter University Challenge, a friendly competition between Penn State University, the University of Michigan, the University of Notre Dame and MSU to see who can collect the most blood. In all, the drive brought in 28 total units. A blood drive on MLK Day has become a bit of a tradition at the college, being held for most of the past 10 years.
"By bringing something like this onto our 'home turf,' it makes donation more convenient for many students and, in my experience, the easier it is for students to access, the more likely we are to see a higher turnout," said Claire Cowan, president of the college's Student Advisory Council. "For my classmates and I, a blood drive feels especially significant because we see first-hand the impact it has on our patients."