COVID-19: Click on the following link for more information on MSU's response to the COVID-19 pandemic.
News
On the front lines: How nursing students, alumni are fighting COVID-19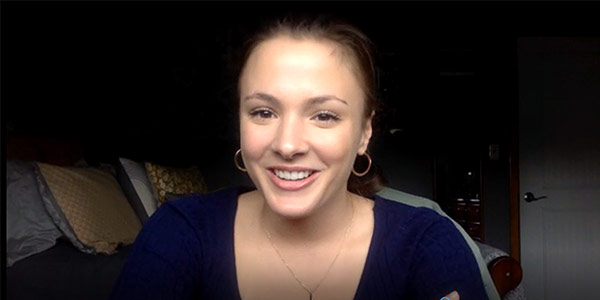 Nursing students and alumni across the country have stepped up to provide care during the COVID-19 pandemic. These are some of the stories of how Spartan Nurses have answered the call to improve the health of our neighbors.
Caley Gibson, senior (pictured)
Caley Gibson, a Michigan State University College of Nursing senior and Nursing Student Association president, is no exception.
Having moved back home to metro Detroit in mid-March after the university announced its transition to online classes, Gibson has kept busy on the intensive care unit floor at Detroit Medical Center Harper Hospital in Detroit, working as a tech while completing her coursework and preparing for the National Council Licensure Exam (NCLEX) in June.
The NCLEX is required for any nursing student who wishes to become a registered nurse, however, the governor has made an exception allowing nursing students who wish to enter the workforce early to obtain a temporary license once they have completed their studies and before they pass the exam. Gibson is looking to obtain a temporary permit from the state soon.
"I'm a little bit nervous for the NCLEX, I thought I'd have all of May to take work off and study but that's not the case," Gibson said.
Working on a designated COVID-19 floor has given her a firsthand look at how damaging the virus has been in Detroit.
"As soon as we get a [COVID-19] patient out, one comes in," she said. "We used to wait three hours to let the virus sit but that process has been sped up. It's mostly true what you hear, many of them are older and have underlying health issues; it's very rare to see a healthy person in that situation."
While living with her parents, Gibson has taken extreme measures to protect those in her home.
"It's a whole routine. I go into work and change into a different pair of scrubs and then a separate pair of clothes to get back in my car and disinfect the whole thing. I then change in the garage, do laundry, and take a hot shower first thing after every shift."
Despite only being required to work two weeks out of the month, Gibson has answered the call as a Spartan Nurse by setting aside much needed NCLEX preparation time to help the fight the virus.
"I figured that now that I'm home, I might as well help out," Gibson said.
Elizabeth Luea, senior
Senior Elizabeth Luea plans on getting a temporary permit from the state to jump into the field as soon as possible. She already has a job lined up at Sparrow Hospital in Lansing, Mich., and while she might not be interacting with COVID-19 patients directly, she knows that she can help ease the burden for others on staff by allowing them to refocus their efforts on those in most need.
"Everything in me is going, 'I want to do this. I want to help,'" Luea recently told the Lansing State Journal. "This is part of why I chose nursing, to help people when they can't help themselves."
Abby Nowicki, BSN '19
Recent alumna Abby Nowicki works with a team of dedicated nurses and physicians at Beaumont Hospital in Troy, Mich. The Detroit area especially has been a hotspot not only in the state but the country for COVID-19 cases. Still, that isn't stopping Nowicki from stepping up.
Nowicki said she never could have imagined being on the front lines of a worldwide pandemic.
"Being an ER Spartan Nurse on the front lines during the COVID-19 pandemic is something I never expected, but something I know I can fight alongside my team, my fellow Spartan Nurses and other healthcare workers," she said. "They inspire me each and every day to put my scrubs on and continue to fight.
"As a Spartan Nurse, the midst of a global pandemic, I know we can fight this and I know we will win!"
Check back to our website to learn more about our Spartan Nurses who are fighting COVID-19.