News
Getting to know: Dr. Emma Schlegel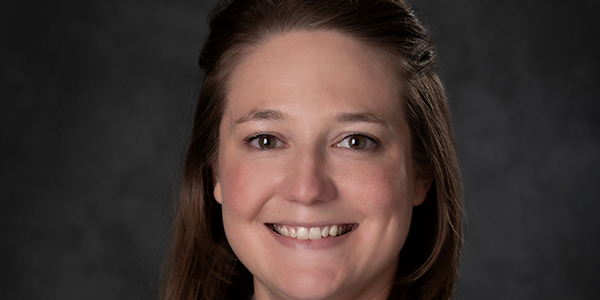 Conflicted on her next step, Dr. Emma Schlegel wasn't sure if she was going to stay in academia. But after an invitation to interview for the College of Nursing at Michigan State University from Dr. Gwen Wyatt, she found a community that she wanted to join.
"I got my degree in Nursing from Ohio State University, and I also minored in women's studies," explained Schlegel, an assistant professor. "I've always been interested in taking a feminist perspective in health care. I wanted to view existing systems critically for women's health issues."
Schlegel's research focuses on women in adulthood, specifically(18-25-year-olds) and how they manage their sexual health. Her research focuses on how health care providers, especially nurses, can help create personalized care plans for young adults.
"I have always been passionate about equity for everyone, but in college starting my minor in women's studies, it gave me a skill set to look at systems critically," said Schlegel. "This gave me a greater passion for women's health and the minor gave me a different lens to view women's health through."
Schlegel recently received the "Research in Nursing Grant Award" from the Michigan Nurses Foundation. Her study is called "Promoting Health 4 Her: Emerging Adult-aged Women's Health Literacy, Preconception Health Knowledge, and Preferred Strategies for Preconception Health Promotion."
As a senior in her undergrad, Schlegel worked as a tech on the floor. She noticed that the hospital would see the same patients over and over and that it didn't feel like they were helping real issue at hand for the patients. This experience made her want to work outside of a hospital setting. Schlegel now researches and educates the next generation of nurses.
"I want to incorporate our students about how important their health is through my lectures. It is just as important as the patients we see," explained Schlegel.
Schlegel noticed that in her own obstetrics course in undergrad that it only covered a traditional family system. On the floor, she learned how to communicate and educate non-hetero-normative families for parenthood.
"I want to incorporate caring for families that are outside of the traditional hetero-normative ones that we learn about. That way our students are well rounded and better prepared for being on the job," Schlegel said.
Schlegel has had students work with mothers that have a history of drug abuse. She wants to make sure that her students provide care without judgment.
"With my clinical groups, I work to make sure my students view a patient without judgment, to provide better care to the patient," Schlegel noted.
While this is Schlegel's second year here at the college, she has seen growth in herself.
She has enjoyed getting to know faculty members and building relationships, connections and looks forward to what she will learn in the future.
"The academic connection by being at a Big Ten university is unparalleled. You have so many academic resources at your fingertips and the community is growing with other universities joining," said Schlegel. "It reminds me of Ohio State, you have great academics and research here, but I also like sports so having a top sports team is also great.
"I have had a great experience getting to know everyone and this is a culture I am glad to be a part of!"