News
A global vision for nursing education: Dr. Ayman Senosy's visit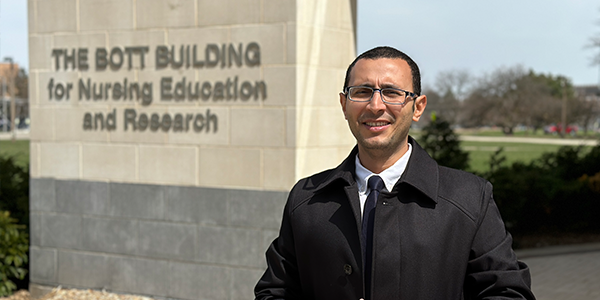 Like any nurse, Dr. Ayman Senosy's passion for nursing started as a drive to help people. However, unlike others at the Michigan State University College of Nursing, his journey started in Egypt.
Senosy is an adjunct visiting assistant professor from Ain Shams University, a governmental university in Cairo, Egypt. At Ain Shams, Senosy is a lecturer in medical-surgical nursing and a clinical instructor. His visit at MSU lasted most of the spring semester.
"I started my journey in nursing in 2006. I had always known I wanted to be a nurse and help care for people" explained Senosy. "I knew I wanted to make a change in nursing education when I started."
Senosy's goal is to provide quality care and improve nursing education, not only in Egypt, but globally as well. He has been to universities in four countries, observing how they educate nurses for the workforce. During these information exchanges, Senosy compares the nursing practices of one country to another. After taking what he learned, he recommends curriculum improvements to Ain Shams University.
"It's about advancing nursing education around the globe, not just in one country," said Senosy. "We all bring something unique to the table, and if we can learn from each other, we can be better at educating nurses."
While the United States and Egypt have similarities in nursing education, Senosy noted some of the differences between the two countries. One being the use of simulation to gain skills for clinical experience.
"The use of simulation is different than what we have in Egypt. I was impressed to see simulation used in education," said Senosy. "The students learn hands-on skills in an environment where it is safe to make mistakes."
Senosy has already started making notes of how the college uses simulation and the learning outcomes to educate nurses. He hopes to take this back and recommend it to the minster of higher education.
"Simulation also teaches students the importance of asking informed questions to the patient they are caring for," Senosy continued. "The debrief after a simulation opens dialogue and conversations that can help their classmates grow."
In Egypt, to become a BSN, a student completes five years of education. While most of it looks like curriculum in the United States, in the fifth year, the students work a year-long internship gaining skills they will need on the job.
"I really hope to recommend an exam like the National Council Licensure Examination for nurses to the minister of education," explained Senosy. "This type of exam would help create nurses who are highly skilled."
During his time with the college, Senosy has attended and participated in the college's Research Day, and gone to the Nursing Education Research Conference in Washington, D.C. He noted MSU provides opportunities for students to advance their education, preparing them for whatever the student's next step might be.
The trip has been a worthwhile experience for Senosy.
"I became a nurse because impact each other through healing, leaving a lasting impact," he said. "I am grateful to have had this experience with the College of Nursing; this has been a great exchange."
Senosy is a strong advocate for nursing across the globe and seeks to improve overall healthcare in his country, according to Dr. Kathleen Poindexter, the college's interim associate dean for academic affairs.
"Dr. Senosy is a visionary," Poindexter said. "We have all benefitted from his time in the College of Nursing and have learned from his vast experience exploring nursing education across multiple countries."