COVID-19: Click on the following link for more information on MSU's response to the COVID-19 pandemic.
News
Grad takes nursing talents to Honduras, sets up clinic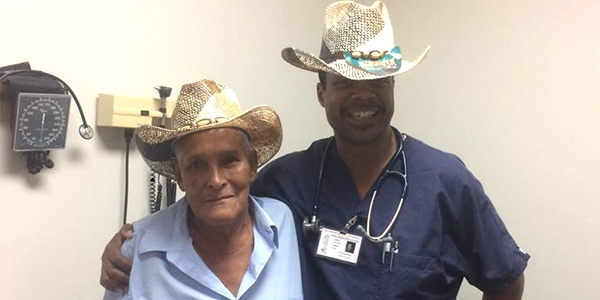 After serving nine years in the military, Amir Hodge, BSN '01 and MSN '04, decided to go to nursing school so he could help people like the ones he saw during his time overseas suffering from lack of resources and extreme poverty.
In 2012, Hodge started to go on short-term medical mission trips to Honduras, and within three years, he and his wife would move there to serve as full-time missionaries. He currently works at Clinica El Ayudante— located in a small village right outside of Comayagua, Honduras. The clinic is very rural and serves an economically challenged population that struggles to provide food, shelter and safety to their families. Prior to the clinic's opening in 2014, this area had virtually no access to health care.
"Some would say the role of a nurse is a caregiver for patients that helps to manage physical needs, prevent illness and treat health conditions. I believe the role of a nurse is much broader," Hodge said. "A nurse selflessly gives of themselves to others and walks alongside them through various stages of life, helping them attain their overall goals."
Hodge's favorite part about working in Clinica El Ayudante as a family nurse practitioner (FNP) is creating access to quality healthcare for people who did not have this privilege, prior to the clinic's opening. He is passionate about his work and takes comfort knowing that the care his patients are receiving far exceeds the care they would receive at the public hospitals in the nearest city.
Hodge is currently pursuing his doctor of nursing practice. Upon completing his program, he wants to help drive health care policy in Honduras and become a more efficient, effective provider.
"My life has been radically impacted since I began serving the poor of Honduras as an FNP," he said. "It is my belief that everyone can make a difference, in some way, in others' lives if they look past themselves and choose to give selflessly."