News
Graduate student can 'bear-ly' wait for Fall 2021 commencement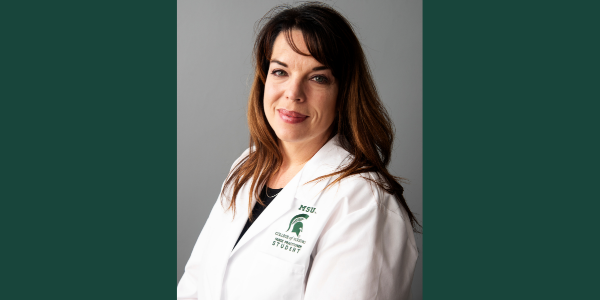 Nearly three decades ago while buying textbooks from the Student Book Store for her classes at Lansing Community College (LCC), Suzanne Ball saw a stuffed bear wearing a Michigan State University College of Nursing T-shirt.
Ball was 27 years old, newly divorced and the mother of a four-year-old son. Her curiosity and desire to be a nurse led her to enroll in LCC's nursing program. At 19 years old, she moved to the United States from a small town in Canada, where there was not an emphasis on higher education.
"Going to college ignited my passion for learning and curiosity about the human body and medicine," she said. "I fell in love with academia and being so close to East Lansing. I was enthralled with the idea of one day going to MSU."
She bought the stuffed bear and vowed she would one day attend MSU and earn her Bachelor of Science in Nursing.
Time passed and Ball moved several times, but the bear always went with her. While unpacking in 2016 after moving back to Michigan from California, the bear gave her a pang of regret. Ball did earn her BSN in 2014, albeit from Liberty University. She decided the stuffed bear had to go.
"I felt like a fraud," Ball said. "I had never been part of the MSU College of Nursing. Why should I keep this memento?"
A few years later while working in the Pediatric Intensive Care Unit at Helen DeVos Children's Hospital in Grand Rapids, Mich., Ball was intrigued by some of the nurses who were attending graduate school.
"The expectation on this floor was that you continue to grow in your knowledge. We were expected to operate at the highest level of our license," she said. "I loved being an RN, but the thought of going back to school and immersing myself in higher education was thrilling."
Fellow nurses at the hospital, the management team and Ball's family were supportive of her and her goal. She applied to MSU, which was the only program she applied for as it was the only place she wanted to attend. Ball was accepted into the Nurse Practitioner DNP program and enrolled in 2019.
"Getting accepted was a bit of a shock and a fantastic blessing," Ball said. "I could not have been prouder than walking on campus that first day. I knew that moment would be forever life changing."
Graduate school was a challenge, and COVID-19 added a new level of difficulty. Working as an emergency room nurse during a pandemic had taken its toll, so Ball chose to pivot and pursue a Master of Science in Nursing degree instead to focus more on the foundational aspects of clinical study.
With support from family, the camaraderie of the cohort and professors encouraging that the sky is the limit, Ball will be among six other graduate students, 46 undergraduate students and six RN to BSN students when they all cross the stage in December. She applied and is interviewing for a neurology fellowship in Virginia.
"I feel like I can accomplish any goal," Ball said. "[Getting into MSU] bolstered my courage to take on new challenges."
She plans to buy a new stuffed MSU bear that she earned and will proudly put on display.
"When I was contemplating going to college, I didn't know the first thing on how to do it," Ball said. "I think we limit ourselves and think the challenges are overwhelming. There is a way to get there."