News
From the green and white, to the red, white and blue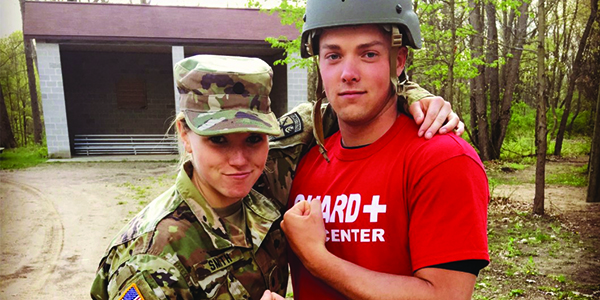 As a child, Jessica Smith remembers asking any nurses she came across about their experiences. Based on those conversations, Smith, even at an early age, was impressed with how nurses were able to provide the best care possible for those going through a difficult time.
Couple that with her admiration for those serving in the military, and Smith's career trajectory was set from childhood: To become a military nurse.
"My goal every day when I walk into a clinical setting is to be a small light in a patient's life through kindness and going the extra mile," said Smith, a traditional BSN student at the Michigan State University College of Nursing, as well as an Army ROTC cadet.
"I felt that I could make the most impact using my nursing skills by taking care of my fellow soldiers, who risk everything for our protection." Smith, who hopes one day to become a U.S. Army flight nurse, was accepted into the college as one of its recent agreements with the Army and Air Force ROTCs.
In short, the college has agreed to accept two cadets from the Army ROTC and one from the Air Force ROTC who meet the educational requirements of their chosen program.
It's just one of the many recent examples of how the college is supporting those who selflessly serve our country.
"The partnership we have with the College of Nursing is extremely important to not only the Michigan State Army ROTC Program, but to the United States Army," said Lt. Col. Jason DeGeorge, Chairperson for the Department of Military Science at MSU. "Army Nurses provide essential care to soldiers, their families, and veterans across the world. The college's standards of excellence align extremely well with all the qualities we are looking for in our cadets."
Capt. Katelyn Woodley, recruiting officer with U.S. Air Force Detachment 380, said air force nurses are recognized for their professionalism and care they provide so, naturally, a partnership with the MSU College of Nursing made sense.
"Nurses are key in our pursuit to provide top-notch healthcare to our Airmen and their families," Woodley said. "Our agreement with Michigan State University's College of Nursing guarantees that we can provide the Air Force with at least one highly-qualified nurse trained by a top-ranked program."
Dean Randolph F.R. Rasch said the college is proud to support our veterans and future members of the armed forces.
"The MSU College of Nursing values all that our cadets and veterans have done for our country and, consequently, we are continuously looking for ways to support them in their nursing education," Rasch said. "These agreements help further cement our relationship with our on-campus ROTCs and build upon our already strong scholarship efforts."
Those scholarship efforts include the Captain Sean Grimes Nursing Scholarship Fund and the Sgt. Leonard B. Graham III Scholarship Fund.
The Grimes scholarship, since its foundation, has been awarded each year to military students and veterans at the college. It is named after Capt. Sean Grimes, BSN '97, who was the first U.S. military Physician Assistant killed in combat during Operation Iraqi Freedom.
The Graham scholarship, which raised $52,000 during a crowdfunding effort last fall, is named after its namesake, who unexpectedly passed away in 2013. Graham's dream was to become a Spartan Nurse after completing his service to our country. Each year, Graham's dream lives on through veterans who receive the scholarship.
Traditional BSN student Andrew Suzio is a past recipient of the Grimes scholarship, which he said allowed him to focus less on work and more on his studies.
"My goals are greatly spurred on by the investment made by those who made this scholarship possible," said Suzio, who has since also received the Graham scholarship. "The generosity and investment in my future are something that I will always cherish. I pray that in some way I can be a torchbearer of Captain Grimes's life and legacy."
Meanwhile, Smith hopes that her fellow nursing students will also reap the benefits of studying alongside those with military backgrounds.
"By setting aside seats in the program for our cadets, the college is receiving nursing students who already have exceptional leadership and teamwork skills," Smith said. "Therefore, not only is the Army benefitting by receiving great nurses from an extraordinary nursing school, but the college is receiving students who have already developed these more difficult-to-learn skills."