News
Healthy aging in place tips with Dr. Linda Keilman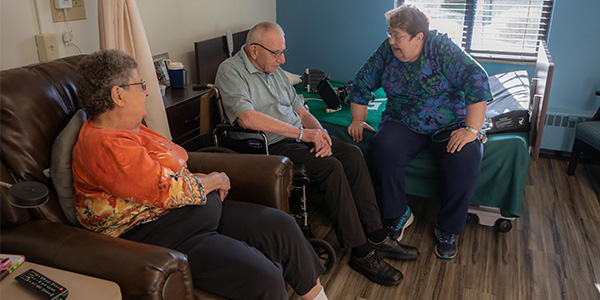 During the fall, we celebrate both National Healthy Aging Month and National Healthy Aging in Place Week. We spoke with Dr. Linda Keilman, an associate professor and gerontology content expert for the Michigan State University College of Nursing, about her tips for healthy aging.
Q: What are the most important factors for healthy aging and what can people do to age healthier?
A: A good attitude! To age gracefully, we need to have positivity, optimism and to take care of ourselves physically. That means eating plenty of fruits and veggies, drinking plenty of water, and doing a lot of physical activity. Housework, yardwork — all that is physical activity. All of it keeps your muscles going. Keeping your brain healthy is important, too. Ways to do that are to read and stay away from the television, especially the news right now. We also need to be around people, even if it's just on the telephone. Everyone needs a support system, people that you can count on when you need them. Lastly, having a good sense of humor is extremely important, because humor and laughter everyday really is the best medicine.
Q: What is the biggest factor inhibiting people's ability to age healthy?
A: I think in the United States especially, we don't really value older adults. People are still productive. It's not a number we should be using to determine a person's worth, their value, and what they can contribute. The fastest growing population in the world are those 85 and older. Many of them are still very active and it's important to consider their values and life goals. Some people want to retire early and some want to work until they feel that they can't anymore. We also in this country focus a lot on beauty. As we get older, we certainly physically change but they're just normal aging changes. You can go into any magazine and see "anti-aging" and "how to prevent yourself from getting older." I'm happy to be getting old, because what's the alternative? Not being here anymore!
Q: How has COVID-19 changed geriatric care and how has geriatric care evolved around the pandemic?
A: It has really changed things in the lives of older adults, that's for sure. Some people are taking "social distancing" to mean "social isolation." Social isolation leads to depression and anxiety and we don't want that. There has been an increase in that and there has been an increase in the number of older adults who have died from COVID-19. A lot of older adults have been cut off from their social support systems and their families. Telehealth has become important, but not everyone has access or can afford it. Even if they have the equipment, some don't really know how to operate it very well. The more frail and vulnerable older adults and the older adults in minority status, are having a worse time with access to health care. We really need to be looking at diversity, equity and inclusivity related to healthcare with older adults and minorities. We also need to be thoughtful, wear our mask, social distance and don't go out in groups. We still need to maintain hope, because every day we find out something new. Hope is important until we breathe our last breath.
Q: What takeaways should people get out of healthy aging observances?
A: Aging should be viewed positively. Every day that we get out of bed and breathe and have another day is another opportunity to live life to its fullest. We should look forward to aging, because the alternative is death. Wrinkles are just where smiles have been. Don't be fearful of aging, because it doesn't do any good for healthy thinking or keeping optimism. It really is ok. Some of the most influential people in the world are older, and it took them a while to learn to be as great as they are. There's always something to look forward to, even if you just look at different flora and fauna outside. Every 24 hours is a new day and it's a new opportunity to do something amazing.