News
How "tummy time" is helping COVID-19 patients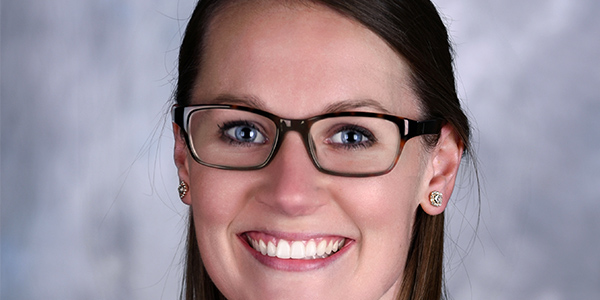 COVID-19 patients could see improved oxygen levels without the help of a ventilator, thanks to one recent Michigan State University College of Nursing graduate.
Mariah Foster, a May graduate in the Doctor of Nursing Practice program, as part of her final class project, discovered when COVID-19 patients physically turned over on their stomachs, oxygen levels improved. This finding including both intubated and non-intubated patients and whether nurses or patients themselves assisted with turning over, or "proning."
"The act of self-proning was taught to patients who were in a general medical or progressive care unit with this intervention occurring as early as when the patient arrived to the emergency department," said Foster, who also has her BSN and MSN from MSU. "Once patients were identified as confirmed or suspected COVID-19 and exhibiting signs of respiratory distress the patients were educated to lay on their belly, or if unable to tolerate, to lay on their side to assist in managing their respiratory distress.
"Just as in the traditional sense of proning, these non-intubated confirmed or suspected COVID-19 patients were observed to have better oxygenation immediately following self-proning."
Foster, who works as a clinical nurse specialist, said her project initially began looking at patients suffering from Acute Respiratory Distress Syndrome (ARDS). It turns out, many COVID-19 patients have similar respiratory issues, so her team at Henry Ford Allegiance Health in Jackson, Mich. were able to adapt her call for more "tummy time" to this new group.
"There was no way to know one year ago, that the knowledge I acquired from this topic would go on to assist in a novel pandemic, and now looking back I truly feel that divine intervention occurred when I was originally deciding on my DNP project topic," she said.
Studies have previously shown automated proning beds can produce similar results, but Foster's work focused on manual methods of proning, including staff-assisted or self. Foster said she was lucky to have the support of faculty in the college, as well as those at her employer as she conducted her project.
"The faculty at MSUs College of Nursing consistently go above and beyond and truly want to see their students succeed," she said. "This unconditional support is why I chose MSU's program to obtain my DNP. I was fortunate enough to have faculty at MSU during my DNP program and leadership at Henry Ford Allegiance Health who displayed that unconditional support once again and made finishing my DNP program possible while working.
"And the leadership and staff at Henry Ford Allegiance Health have gone above and beyond during these uncertain times we are encountering as a result of COVID-19. They have strategically faced these challenges by embracing change with creative solutions while supporting innovative strategies to ensure the safety of our patients, staff, and community."
Dr. Jackie Iseler, director of the college's Clinical Nurse Specialist program, said Foster will be a great ambassador for MSU.
"Mariah's work is a strong example of why clinical nurse specialists and doctors of nursing practice are critical to healthcare today and in the future," Iseler said. "We are able to understand the root of the clinical problem, synthesize the best available evidence, and lead an interprofessional team in implementing the best practice — with the flexibility and agility to adapt — when change happens."