News
Interim Dean Announced; Rasch to transition into new role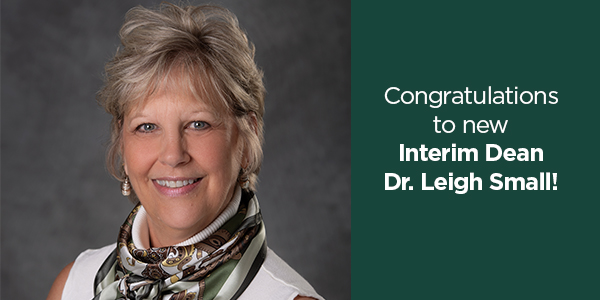 Dr. Leigh Small, PhD, RN, PNP-PC, FAAN, has been named interim dean of the Michigan State University College of Nursing, effective Nov. 1. She succeeds Dr. Randolph F.R. Rasch, who has already transitioned into a new university-wide role in the Office of Health Sciences focused on health transformation.
Small, who was previously associate dean of academic affairs and a professor, said some of her goals include remaining student-focused, emphasizing a culture of appreciation and teamwork, and promoting communication and transparency. Ultimately, she said the college needs to focus on health, healing and wellness.
"We have to go back to the core of who we are. Those three words mean a lot and we need to take care of each other," Small said. "I want faculty and staff to know they are doing an amazing job — and our students do well when they do an amazing job. We have to come together collectively."
In the last year, Small said the BSN graduates who took the NCLEX–RN examination had a high first-time pass rate and graduate students have also had exceptional pass rates. The college will begin strategic planning soon, and Small said what has and has not been accomplished needs to be reviewed.
"This requires a lot of teamwork and grace with one another as we are all having a stressful time, dealing with changes and the pandemic," she said. "This is a wonderful community, and everyone is so welcoming. I have no doubt we will all be just fine"
Small came to MSU in July 2020 after nearly four years as associate dean of academic programs at the University of Colorado Anschutz Medical Campus. She has more than 25 years of experience promoting evidence-based practice and fostering the development of health care professionals.
"Over the past year, Dr. Small has been a respected member of our community, and I am grateful she has agreed to step into this leadership role," Executive Vice President for Health Sciences Norman Beauchamp said. "I look forward to continuing our excellence in nursing education, research and outreach with this new chapter and Dr. Small's leadership."
The MSU Board of Trustees confirmed Small's appointment at its Oct. 29 meeting.
"I am honored and humbled to have been selected for this position and greatly look forward to working with my colleagues in the coming days, weeks and months as we launch a national search for a permanent dean," Small said. "I want to thank outgoing Dean Randolph Rasch for this commitment to the college during his six years in the role and look forward to working together to build upon his accomplishments and continue to heighten awareness of our college, locally, regionally and nationally."