News
Kendra Kamp, PhD '18 is making strides in gastrointestinal research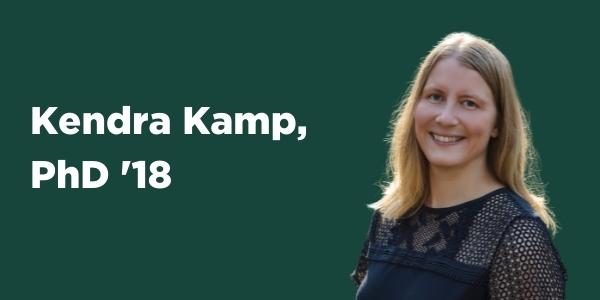 Kendra Kamp, PhD '18, is a recipient of the Gilbert and Leona Schumann Endowed Scholarship. Kamp was drawn to nursing after spending summers with her grandfather as he dealt with symptom management surrounding his amyotrophic lateral sclerosis (ALS).
This unfortunate circumstance sparked a lifelong interest in patient care and symptom management. Her passion for research comes from the belief that it can simultaneously impact and improve the lives of individual patients as well as thousands of people through large scale publications.
Right now, she is focusing on conducting research as an assistant professor at the University of Washington. Specializing in gastroenterology, Kamp is interested in improving the quality of life for individuals with gastrointestinal diseases such as inflammatory bowel disease and irritable bowel syndrome (IBS).
She is also passionate about destigmatizing conversations surrounding symptom management for these illnesses, as well as exploring their link to anxiety and depression.
"My scholarship was incredibly impactful because it allowed me to focus completely on school and my research; I did not have to divide my time and find a way to support myself," said Kamp. "With my eased financial burden, I was able to immerse myself in my research and publish manuscripts."
Kamp is now working on formulating a comprehensive self-management program for patients with IBS. She would like to thank her donorsfor investing in her education.
"Thank you for your commitment and dedication to enhancing the next generation of nursing scientists."