COVID-19: Click on the following link for more information on MSU's response to the COVID-19 pandemic.
News
Locally grown nurse: BSN students finds calling in urban farming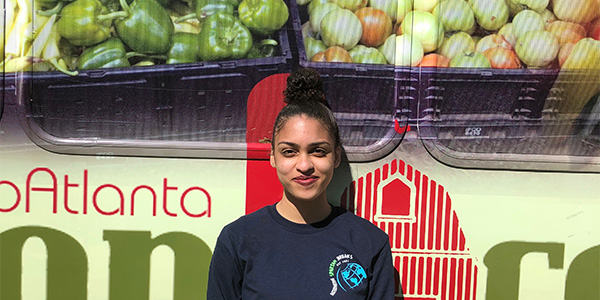 For Mia McPherson, nursing doesn't just belong in hospitals or clinics, but also in the field among carrots, broccoli and raspberries.
That's why the traditional BSN senior has been taking in as much experience as she can during her student career, working on urban farms from Georgia to Michigan.
"Nurses treat a lot of diet-related illnesses, so I want to study our food systems," McPherson said. "A lot of our food options aren't very fresh. Many don't have access to healthy foods."
According to the U.S. Department of Agriculture, more than 8 in 10 American households did not continuously have access to enough food for an active, healthy life for all family members throughout 2017. And 23.5 million Americans live in "food deserts," or geographic areas without access to affordable, healthy foods, regardless of income levels, although these are typically found in lower-income neighborhoods.
Consequently, McPherson has made it her mission to understand urban food systems more thoroughly, having previously spent an "Alternative Spring Break" at the Metro Atlanta Urban Farm. Currently, she is interning at The Farm at St. Joe's at St. Joseph Mercy Hospital in Ypsilanti, assisting with tasks such as transplanting, harvesting, and packaging community supported agriculture (CSA) boxes. Additionally, she is interested in focusing on their "Produce to Patients" program and youth education.
In addition to her nursing course load, the Ypsilanti native, who will graduate in December 2020, fostered her interest in food systems through the Sustainable Agriculture and Food Systems (SAFS) program and her advisor, Julie Cotton.
"SAFS has definitely given me a diverse perspective on health in relation to my nursing training," McPherson said. "Traditionally, nurses were nearly exclusively trained in hospitals. But healthcare is multi-faceted, and we need to understand the root causes of illness and solutions for moving forward."
The next step for McPherson once she graduates? Likely a job in community care.
"That's where I see myself landing," McPherson said. "In a community setting, I can make a big, broad impact on countless individuals and populations through direct care and advocacy."