News
Meet the fall 2020 student award winners.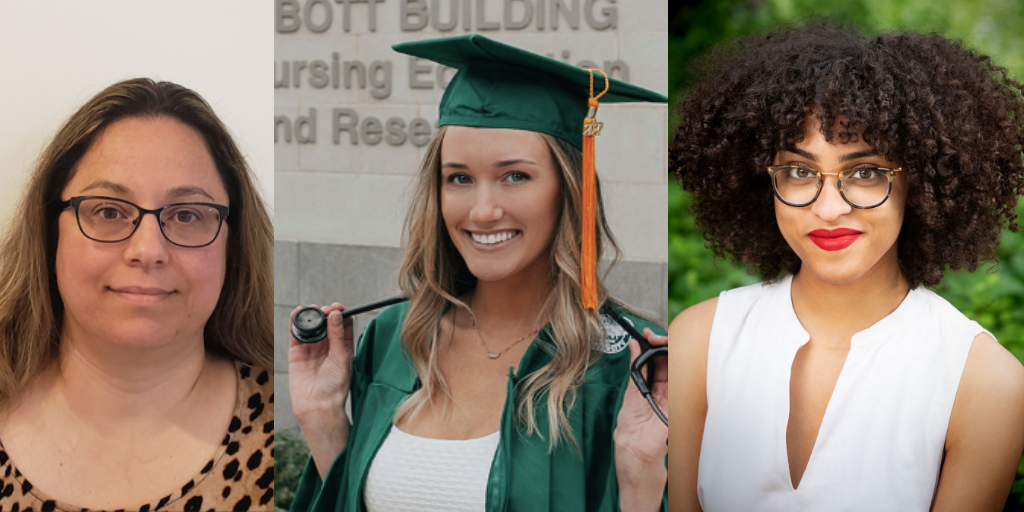 (Pictured, from left to right: Julia Arnaudovski, Emily Hampel and Mia McPherson)
While all Michigan State University College of Nursing students are extremely hardworking, brave, and worthy of praise, a few students go above and beyond and are honored each semester for their contributions.
The Outstanding Student Awards are given to one RN to BSN student and one traditional BSN student, both of whom demonstrate extraordinary achievement in scholarship, clinical practice and leadership. The award-winners are nominated by faculty, administrators and peers and then selected by the Undergraduate Program Committee.
The Spirit Award is awarded to students who have done the most to motivate and inspire their fellow classmates to uphold the mission of the College of Nursing and to keep up the morale of their classmates during those particularly difficult times. Classmates nominate their peers for this award.
Below are the award winners for the Fall 2020 semester.
Julia Arnaudovski, Outstanding Student Award Recipient
Julia Arnaudovski, current RN to BSN student and former chemist, was inspired to become a nurse after her daughter was diagnosed with leukemia at a very young age.
"After she became healthy, I had this overwhelming feeling that I had to show gratitude toward the pediatric oncology nurses," Arnaudovski said. "The best way to thank them is to become one."
After earning her RN license at Macomb Community College, Arnaudovski enrolled in the RN-BSN program at the MSU College of Nursing.
"At Michigan State, I learned how to be a leader and I learned how to be an advocate," she said. "I think that's what becoming a Spartan Nurse is best suited for."
Arnaudovski currently practices as a cardiac nurse at Beaumont Hosptial, which she loves, but is looking to try out other areas in the field of nursing.
"I would love to try my hand in labor & delivery," Arnaudovski said. "Graduate school will definitely be in my future as well."
Catherine Clarey-Sanford, PhD, gave Arnaudovski high praise and is excited for her future.
"Julia Arnaudovski is receiving the RN to BSN Outstanding Student award because she has shown an innate sense of accountability that has provided her with the perseverance to complete her BSN," said Clarey-Sanford, who is coordinator of the RN to BSN program. "I believe Julia is dedicated to nursing and will continue to provide compassionate, safe, and evidence-based care; as well as continuing to promote the nursing profession through leadership roles."
Mia McPherson, Outstanding Student Award Recipient
Mia McPherson, current traditional BSN student, grew up around a lot of nurses which inspired her to pursue her BSN at MSU.
"Nurses help bring life into the world, out of this world, and everything in between," McPherson said. "Their contribution to society is really special."
While at MSU, McPherson was extremely devoted to her studies and clinical experiences, but was also heavily involved in Alternative Spartan Breaks, which is where students go on community service trips over breaks. McPherson participated in three during her undergraduate career and got to lead two of them. You can read about one of those trips here.
"These trips will help guide my experience as a nurse," McPherson said. "Nurses are involved in so many levels so it was great to help in individual and population health."
Looking toward the future, McPherson doesn't envision a traditional path for herself.
"My plan is to work for a hospital for a year and then go back to school to either get a DNP or two master's," she said. "Long term, I want to work in public health, health policy or primary care."
Denise Ferrell, DNP, couldn't be more proud of Mcpherson.
"Mia is indeed an outstanding MSU nursing student," said Ferrell, who is the college's associate dean for community engagement and public service as well as director for diversity, equity and inclusion. "She knows — and so do I — that she will be a warrior for society's most vulnerable, social justice, and equity for all individuals. She understands the plight of those who are underserved and under-represented in society, including those in Brown and Black communities."
Emily Hampel, Spirit Award Recipient
Back when Emily Hampel was deciding on where she wanted to attend college, the collaborative culture at MSU drew her to East Lansing. Fast forward, and Hampel is now being awarded for representing that same spirit she fell in love with four years ago.
"I really loved the spirit of MSU," Hampel said. "Everyone was just so kind and there is definitely that family feel here. There is something about Michigan State that everyone truly tries to build each other up."
Specific to the College of Nursing, Hampel loved the sense of community within the college.
"Nursing school is very unique in the fact that it's really difficult and everyone in it has a common struggle," she said. "We all go through the same struggles and celebrate the same victories."
Hampel has worked extremely hard over her college career to keep morale and spirits high in the college, and is immensely grateful for the award.
"I ran and showed my mom right away," Hampel recalls. "Reading that my classmates nominated me, it seriously meant everything to me. I was kind of at a loss for words, just to know that my efforts in keeping morale high and keeping people motivated were recognized."
Hampel currently serves as a pediatric student nurse extern at DMC Children's Hospital in Detroit, where she works in the pediatric intensive care unit. Post-graduation, Hampel is hoping to be accepted to a pediatric nurse residency program and she later hopes to go back to school to get her master's or DNP.
"Emily is definitely deserving of this award," said one of her instructors, Callie Harris. "While in my clinical group, she had the unique and invaluable ability to bring a sense of positivity and community to an environment which otherwise can have the potential to feel isolating or intimidating. This is a quality that I, and certainly her peers as well, always greatly appreciated."