News
In Memorial of Dr. Louise Selanders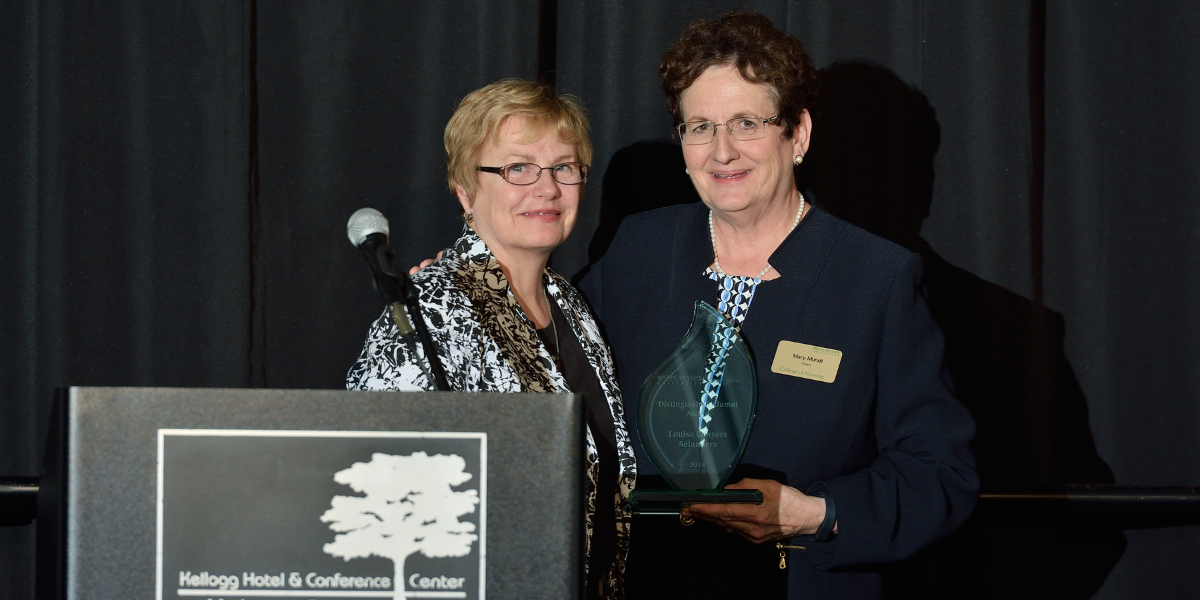 Patrick Crane was certain he did not want to go on a study abroad trip to London. Between job prospects and the financial strain, the then-undergraduate student felt resolute.
That is, until he encountered Dr. Louise Selanders.
"I came up with every excuse that I could think of not to go there, and she countered with the precision of a hostage negotiator," Crane said.
Selanders ultimately convinced him to go and Crane, MSN '07, now an assistant professor in the college, has since taken over the study abroad program at the College of Nursing following in his mentor's footsteps.
He is one of the many examples of students whose lives were touched by Selanders, who passed away Dec. 17 after complications from Alzheimer's disease.
Selanders, BSN '69, was the college's foremost historian, as well as an educator, researcher, nurse, mentor and friend.
Credited with over 150 publications and presentations over her career, Selanders was considered the international expert on all things Florence Nightingale.
Not only was Selanders an avid fan of Florence, but she also made sure her students were as well. One of her most well-known classes taught at MSU was Nursing Theory, which was among the first courses new students took upon arriving at the college.
"It was a mandatory course, but it was a great course," Sue Cauley, BSN '81, said.
The class offered plenty of practical advice that was still useful. Feeling ill? Nightingale said you should get out into the sunshine. Have a child who is constantly sick in the winter? Keep air circulating in the house.
"When you talked to her, it was like talking to a nursing history library," Crane said, adding her wealth of knowledge provided many students with the necessary keys to success that set them up for a long, prosperous career.
That commitment to improving others stemmed from Selanders's own life. She constantly improved her skills, as she believed nursing applied to every facet of daily life. "Louise was a big believer in giving the people the tools to thrive," said Crane.
Selanders's drive to learn every best practice in nursing encouraged her to seek input from nurses all over the world. Most notably, Selanders created a nursing exchange program with the United Kingdom. In collaboration with Charles Turner, Selanders set up equal exchanges of U.S.-based nurses to the U.K. and vice versa. Exchange nurses learned best practices from the new culture.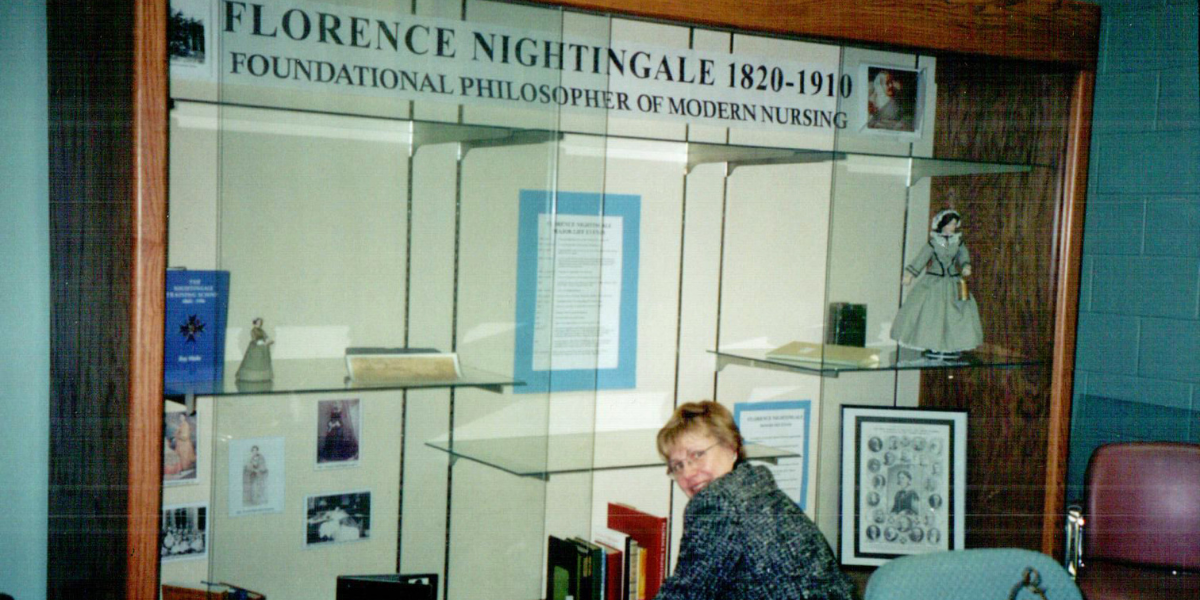 In addition to the exchange program, Selanders also organized the MSU Nursing in London study abroad program. The program, similar to the U.S./U.K. exchange program, allows MSU nursing students the opportunity to compare healthcare practice between the United States and the United Kingdom. Students attend lectures on nursing's history and practice. They also travel on field trips to sites relating to Nightingale.
While Selanders fostered numerous international connections, some of her most important work happened in her own community. She began "Blood Pressure Sundays" at St. Katherine's Episcopal Church in Williamston, which is about 10 miles east of campus. Her daughter, Kate Hagerman, shared that after service ended, Selanders would spend hours with fellow parishioners. She measured blood pressure, offered medical advice, evaluated possible concerns, and everything in between. Selanders's passion for service to others had no end.
Although she was a nurse by day, Selanders had many other passions as well, including music and sports.
Susan McMullen, MSN '98, found out by happenstance that Selanders was highly involved with the MSU Spartan Marching Band. McMullen performed in the Spartan Marching Band (SMB) from 1985-89, earning her the coveted band jacket. She wore the jacket frequently to her nursing classes to stand out among some members of the college who believed the course work to be too rigorous to attempt extra curriculars.
In 1987, she wore it to a clinical practicum being overseen by Selanders. Upon seeing the jacket, Selanders approached McMullen and started talking about the last football game between MSU and Indiana University.
This game determined which Big Ten football team got an invitation to the 1988 Rose Bowl. George Perles and the Spartans beat the Hoosiers soundly 27-3 in East Lansing, clinching the invitation with one week left to go in the season. For the football team, that meant playing in the "granddaddy of them all, " the Rose Bowl. For the band, that meant marching in the Rose Parade, one of the longest standing festival parades in the United States.
"Louise quietly mentioned being a part of the alumni band, and it all clicked," said McMullen.
"Everyone in the band block knew Selanders and her infectious love of the Spartan Marching Band."
Selanders also loved sports.
Growing up in Ohio, she was an Ohio State University fan. Her fandom connected her to her father, frequently attending OSU football games together growing up. Selanders always had sports in her life thanks to those football games with her dad.
She cherished her fandom of the scarlet and grey quietly in East Lansing, but her appreciation for sport transferred easily to Michigan State athletics.
In 1993, Selanders joined the MSU Athletic Council as a College of Nursing representative. Her family frequently cited in memorial services that she knew all the "news" coming out of the athletic department during her service.
Selanders had access to free athletics tickets for many years. Attending games of all sports was a great pastime for her family. Selanders and her father gained a new team to watch together, going to football games together frequently until his passing. Not even health emergencies could get in the way of going to an MSU football game as confirmed by her daughter Kate Hagerman. Kate's broken wrist earned on Friday night was not going to jeopardize their attendance at the game that Saturday.
Selanders was a no-nonsense woman. At the same time, she saw the best in people's abilities.
"She didn't suffer fools gladly, but she was a very fair person," Barbara Wirtz, BSN '86, said. She knew her worth, and no one could take that from her. At the same time, she offered empathy in every opportunity possible. Offering genuine tough love was one of her most unique abilities.
Selanders pushed everyone she knew to be their best selves. For Crane, that meant pursuing his DNP and completing the DNP Project. For McMullen, that meant attending graduate school. For Wirtz, that meant returning to the College of Nursing to teach. While not every path was destined to be completed, Selanders was ready with all the support a person could need.
Selanders was fiercely dedicated to the future success of the nursing field.
"Her passion stuck with people," said McMullen. "It was contagious."
---
Memorial Service
The MSU College of Nursing community will be hard pressed to find an individual who embodied the will of a nurse so ferociously. Many who knew her believed that she would make a wonderful mark in the field of nursing. And she continues to do just that through the thousands of lives she connected with. From her kindness and caring nature to her resilience in the face of societal barriers, the Spartan community will remember Selanders fondly for generations of nurses to come.
The College of Nursing Office of Development and Alumni Relations offers their comfort to the Selanders family as they navigate this loss. As Dr. Louise Selanders was a global advocate for the history of Florence Nightingale, she will be interned on May 6, 2023, in celebration of National Nurses Week. The ceremony will take place at St. Katherine's Columbarium following a 9:30 a.m. worship service.