News
Mental Health Awareness Month Q&A: How stress affects parents, kids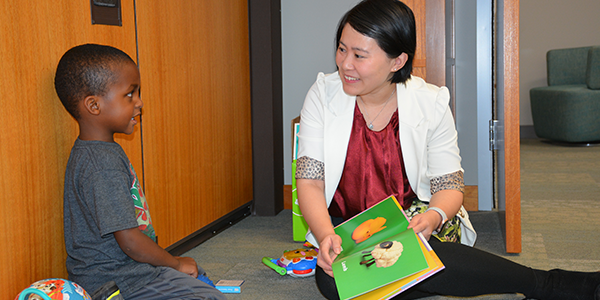 May is National Mental Health Awareness Month and Michigan State University College of Nursing experts are offering tips on how to balance the mind. In this feature, Assistant Professor Dr. Jiying Ling talks about the connection between stress and physical health in parents and their children, especially during a crisis, like the COVID-19 pandemic.
Q: What have you learned in your research about the connection between stress and health, especially in parents and their children?
A: Stressed parents tend to have stressed children. Stress can negatively affect both parents' and children's weight status and lifestyle behaviors, such as sleep time and physical activity level. Stressed parents are more likely to watch TV and drink alcohol. Most importantly, parents' coping ability is a buffer that can weaken the influence of stress on children's health.
Q: How do you think this connection is impacted by "stay-in-place" orders across the country during the COVID-19 pandemic?
A: With the "stay-in-place" orders in response to COVID-19 pandemic, both parents and children are suffering from increased levels of stress and anxiety. These can decrease their sleep, physical activity, healthy eating behavior, and also overall mental health. Many low-income families may also experience difficulty of getting healthy groceries due to low socioeconomic status and lack of transportation. Equipping parents with effective coping strategies can help break the connection between stress and health.
Q: What can parents do to ensure they and their children stay healthy and fit during a pandemic?
A: Parents need to control their own negative emotions in front of their children, so children do not get stressed out. Parents can use some relaxing techniques such as deep breathing or positive thinking (e.g., "everything will be fine," "scientists will find a cure for the COVID-19," "it is preventable and treatable," "this is not the end of the world," etc.) to release their stress or anxiety immediately. It is very normal to feel anxious and stressful at this time, make sure to stick to trusted sources for information, take care of yourself, and believe that things will get better soon. To stay healthy, both parents and children can practice yoga and meditation at home to relax and be physically active. Keep in touch with loved ones and friends to support each other via text messages, phone calls, video chats, and social media. Get enough sleep and eat healthy, well-balanced meals to build a strong immune system.
Q: What are the biggest obstacles parents face in ensuring their children eat healthy? How is that compounded by something like a pandemic?
A: One big obstacle is lack of time and cooking skill. With the "stay in place" orders, parents may want to learn some new healthy recipes and cook with their children to prepare a healthy family meal together. Another obstacle is their picky eaters. Children tend to eat the food they help prepare for and need to be exposed to a new food multiple times until they like it, parents may take advantage of this time to involve their children into cooking and expose them to more new healthy foods. Right now, with the whole family home together all day and different work and school schedules, eating healthy can be more challenging. Some tips to consider: make a weekly meal plan; plan for groceries to stock up on fruits, vegetables, whole grains, and proteins; skip some high-sugar beverages or desserts; and cook and eat together as a family!
Q: Where can people who feel mentally burnt out or overwhelmed during this pandemic go for resources or support?
A: First, seek help and support from friends. During this stressful time, we need to support each other, and find someone who you can talk to about your feelings and worries. If seeking help from friends does not work, then you will need to obtain professional help by calling your healthcare provider, locating the Mental Health America affiliate nearest you, or calling Mental Health America at 1-800-969-6642. If you feel you are in crisis now, call 1-800-273-TALK (8255) to reach a 24-hour crisis center or dial 911 for immediate assistance. Here are some hotlines to seek help:
Community Mental Health Authority of Clinton, Eaton and Ingham Counties COVID-19 Support Line: (517) 237-7100 (8:30 a.m.- 4:30 p.m., weekdays)
National Suicide Prevention Hotline: 1-800-273-8255
Crisis Text Line: Text HOME to 741-741
Disaster Distress Hotline: Call 1-800-985-5990 or text TalkWithUs to 66746
National Domestic Violence Hotline: 1-800-799-7233 or text LOVEIS to 22-522
Michigan Department of Health & Human Services Peer Support Warmline 888-733-7753 (10 a.m. - 2 a.m., 7 days a week)