COVID-19: Click on the following link for more information on MSU's response to the COVID-19 pandemic.
News
MSUFCU, college team up for wellness series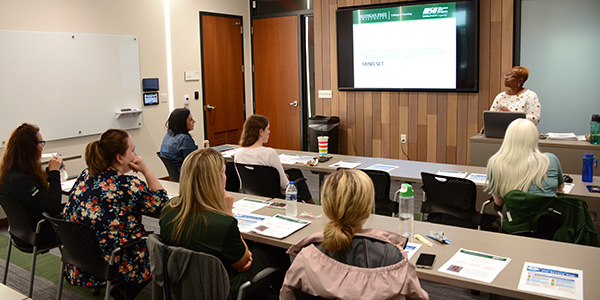 The Michigan State University College of Nursing is partnering with the MSU Federal Credit Union to offer free wellness seminars to the company's more than 900 employees. The program is part of the college's mission to improve the health of our neighboring communities.
The series, which began in March, brings in a different representative from the college each month to discuss a certain topic, including mental health, summer health, women and men's health, breastfeeding and aging in place. The approximately 90-minute sessions include time for questions and discussion and are held at the MSUFCU headquarters in East Lansing.
"We want to work collaboratively with the surrounding communities to identify and promote health through education and to provide meaningful solutions," said Dr. Denise Ferrell, associate dean for community engagement and public service. "The College of Nursing can strengthen the bond with our surrounding community partners by providing evidence-based information on specific health topics, as well as resources. This is a shared commitment to the health of our neighbors."
The main goal of the seminars is to assess the health needs and provide education to the community. The long-term vision for the program is to continuously monitor current trends in healthcare and to identify what our community partners need and want.
Dr. Rhonda Conner-Warren, who recently presented on summer health tips, including which type of sunscreen to wear and how to stay hydrated, said the series covers everyone from the littlest resident to the oldest person.
"We are doing it in an atmosphere and at a time that is convenient for our community friends and families," Conner-Warren said. "We are providing information on topics that the members requested and that address their greatest concerns.
"It is true that people will learn best when the information is what they want, mixed in with what is also important to know."