News
MSU receives $2M to update nursing technology and sim lab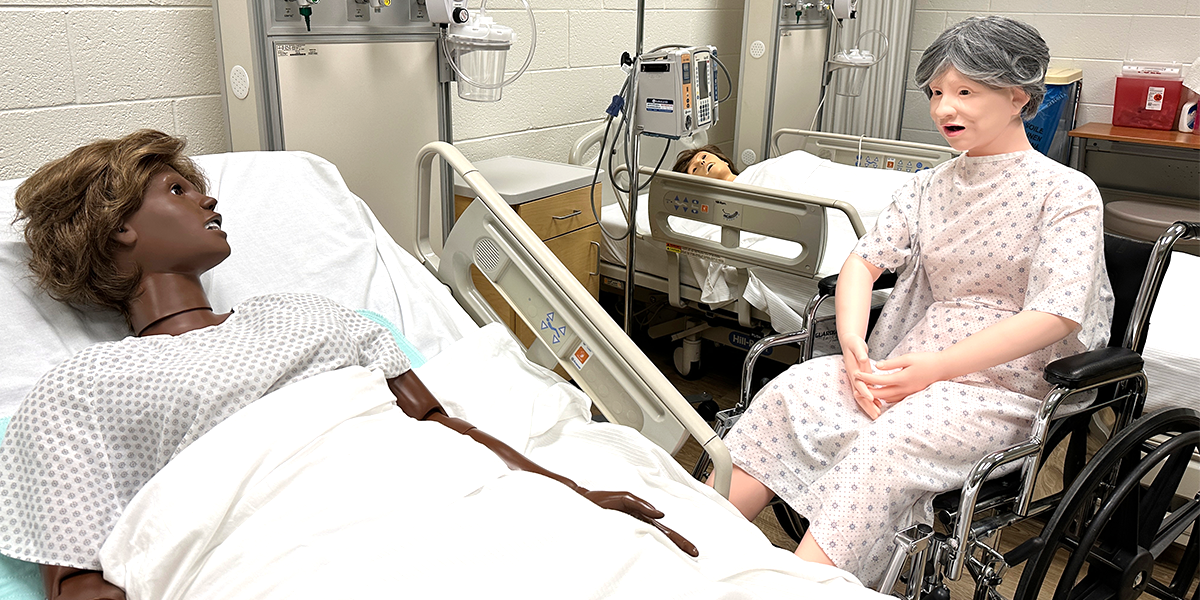 When presented with the opportunity to give back to her alma mater, the decision was easy for Nancy Grosfeld, '65. Nursing called to her just as it had when she graduated with her bachelor's in social work.
Spartan Nurses were there for her when deciding her future, which is why Grosfeld and her husband, Jim, are donating $2 million to the Michigan State University College of Nursing to transform the technology and simulation spaces to be contemporary and more realistic, ensuring students' training includes the most up-to-date equipment.
The gift will, among other purposes, include funds for families of advanced high-fidelity patient simulators (infant, pediatric, and adult) that can display a full range of neurological, cardiovascular and respiratory physiological responses; a large technology-supported display that allows students to interact with a virtual library of anatomical images to advance their understanding of the human body as well as facilitating diagnostic decision-making; and virtual reality and immersive interactive simulation projection equipment.
"My primary intention in making this gift was to give back to the University that provided me with an invaluable educational experience, academically, socially, and professionally," said Grosfeld. "Secondly, my husband, Jim, and I wanted to direct our gift to a department that was experiencing a shortage of important qualified professionals in the field."
To understand her decision to give back to nursing, one must go back to the year following Nancy Grosfeld's graduation from the College of Social Science. She had full intentions to continue on her social work path with graduate school. However, after seeing the care and compassion that nurses embodied on a student field trip, Nancy Grosfeld was so moved that she decided to forgo graduate school in exchange for a nursing degree.
She combined her passion for social work with nursing through a role at Pontiac State Hospital the summer after that fateful field trip. She took on a pediatric mental health role for several years in the hospital's residential inpatient clinic. At the same time, what was then known as the MSU School of Nursing was sending nurses to the Pontiac State Hospital for psychiatric clinical rotations. Everywhere Nancy Grosfeld went, Spartan Nurses were there to guide her journey.
She remains highly involved with caretaking through her non-profit affiliations. As an active member of the Jewish faith, she maintains leadership roles for several Jewish organizations, including the Jewish Federation of Metropolitan Detroit. Nancy Grosfeld formerly served as the Federation's campaign chair and president of the Federation. She also headed the Federation's Women's Philanthropy Department using her experience with charitable contributions to guide the group.
She felt called to assist Spartan Nurses as the profession faces resource shortages and strains on nurses' wellbeing. She acknowledged that there aren't enough caretakers, like nurses or teachers, at this time. Therefore, those who are around need assistance.
With numerous advancements in medical training technology, Nancy Grosfeld wanted the best for MSU nursing students. She remembered times when she had to give intramuscular injections on oranges instead of humans. Now with new simulation equipment, students will be able to run IVs on mannequins and responsive devices.
"In selecting the simulation program specifically, we felt it would provide valuable lifelike clinical experiences for the students and allow the College of Nursing to expand and grow with the use of new technology and state of the art simulation equipment," said Grosfeld.
The Grosfelds' gift will go on to replace outdated simulation equipment. This includes mannequins of all ages, artificial intelligence devices that respond to questioning and evaluations, and immersive virtual reality that can turn a room into any healthcare setting imaginable. All the equipment provided with the gift will move to a new interdisciplinary simulation facility being prepared for all of MSU's health science colleges.
"The MSU College of Nursing is very thankful to the Grosfelds for this transformational investment in our college and future nursing professionals," said College of Nursing Dean Leigh Small. "We believe that by having this new technology and updated simulation spaces we can augment real-world clinical opportunities students experience and best prepare students for their future professional role. The ability to provide high quality, realistic simulation will also allow us to increase student enrollment to meet the critical need for professional nurses."
Read the full news release here.