COVID-19: Click on the following link for more information on MSU's response to the COVID-19 pandemic.
News
New health sciences EVP lays out vision for college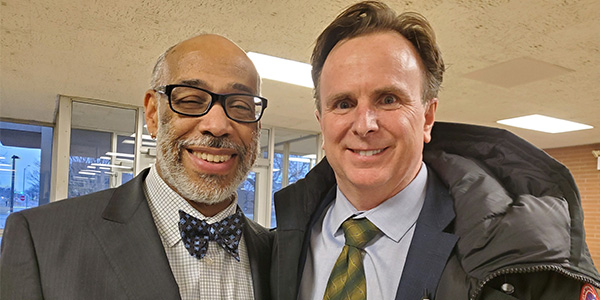 In Michigan, nurse practitioners continue to push for full practice authority and to be recognized as a primary care provider in state policy.
During a recent town hall with all Michigan State University College of Nursing faculty and staff, new Executive Vice President for Health Sciences Norm Beauchamp voiced his support that advanced practice registered nurses should be able to practice to the full scope of their abilities.
"I will stand with you side-by-side in that," Beauchamp said of pushing legislation advocating for change. "It's the only way we'll ever be able to provide accessible and affordable healthcare."
Beauchamp outlined his priorities for the health sciences colleges at MSU during the town hall, where attendees could also ask questions. Other topics included the need for interprofessional education, collaboration among colleges and units in research and the importance of placing one in another's shoes.
Students from various health disciplines should be working together in simulations and other interprofessional educational settings, Beauchamp noted.
"Education is the most scalable way to change the world," Beauchamp said. "And I think conversations are needed between medical students and nurses and nursing students and attending physicians. I don't think we're understanding one another."
When it comes to research, Beauchamp noted the importance of aggregating patient data and educating health systems on the importance of research. Furthermore, there is an opportunity for the colleges to work together more closely on some research initiatives and to take advantage of one another's connections in the industry.
"It will only be successful if we work together," he said. "It's a huge opportunity."
At the end of the day, the success of the health colleges hinges on mutual respect and collaboration, he noted.
"I'm a big believer that to get healthcare right, nurses have to lead the way," Beauchamp said. "We have to go forth as equals. That's the path."