News
Nurse Practitioner Week: Highlighting alumni and faculty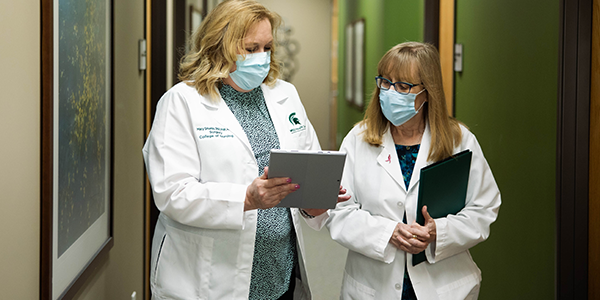 Nurse Practitioner Week is Nov. 7-13, and the Michigan State University College of Nursing is celebrating by highlighting some of its faculty and alumni.
An NP provides health promotion therapeutics, as well as early recognition and prompt treatment and management of illness, prevention of complications, and needed rehabilitation.
Learn more about the college's nurse practitioner MSN and DNP programs here, and check out some of our NPs' stories below.
Dianne Junior, MSN '03
Dianne Junior, MSN '03, earned a Master of Science in Nursing from the college's Adult Gerontology Nursing Practitioner Program. In her career, she has worked in a variety of settings from nephrology to homecare. Currently, she is a nurse practitioner who works with visiting physicians to offer a comprehensive plan for homebound patients.  
"I feel like I'm truly living my purpose," she said. "I've always wanted to be a nurse, I'm a Spartan Nurse. I feel good about serving my community.
College faculty leading the charge on full practice authority legislation: Denise Hershey, Ann Sheehan, Angella Ruley and Jackie Iseler
How some advanced practice registered nurses (APRN) practice in Michigan could change thanks in part to the efforts of various state executive boards, which several MSU College of Nursing faculty members hold positions on.
Advanced practice registered nurses in Michigan have a goal to achieve full practice authority. In Michigan, APRNs need a collaborative agreement with a physician to diagnose and treat patients and prescribe medications. But that could be beginning to change.
Denise Hershey, PhD, RN, FNP-BC, said nurse practitioners are a solution to addressing health disparities.
"We have to move out of antiquated models of health care if we are going to make an impact in our communities and keep people in Michigan healthy and improve access to care," Hershey said.
Patrick Hawkins, MSN '04
Patrick Hawkins, DNP, RN, NP-C, ANP, is a nurse practitioner from Flint who specializes in nephrology. He has also taught future nurses as a part-time faculty member for the college since 2012. 
"It's an honor and a weight that people trust you with such a valuable possession — their life," he said. "The college has been steadfast in that approach. This is a person and not just a diagnosis, which is a wonderful thing." 
Mary Smania, assistant professor
Mary Smania, DNP, FNP-BC, AGN-BC, FAANP, specializes in women's health, specifically in breast health and genetic risk assessment and testing. She has a practice with the MSU Department of Surgery Comprehensive Breast Health Care and works with patients with breast cancer, benign breast disease and genetic risk assessment.
Smania spearheaded a new course in the college with a genetics-focus, which she taught during the spring 2021 semester. She said a lot of information about genetics has come about in the past 10-15 years, and many health care professionals need more education on the topic.
"We have our own set of genes that are with us for life," Smania said. "As time has gone on, things like medications have become specific to our genome. Our risk is affected by our genome. Cancer has been in the forefront."