COVID-19: Click on the following link for more information on MSU's response to the COVID-19 pandemic.
News
Nurses Week: Stories of amazing Spartan Nurses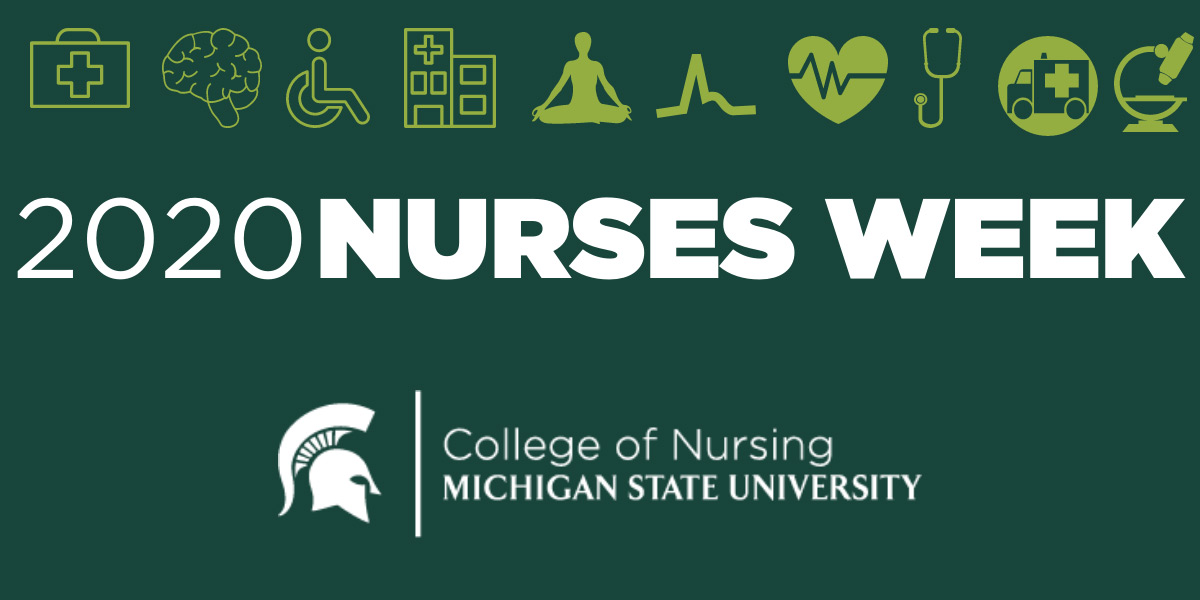 In 2020, we're celebrating three big milestones: the 200th anniversary of Florence Nightingale's birth, the International Year of the Nurse and the 70th anniversary of the Michigan State University College of Nursing.
Year after year, we continue to show what it means to be a "Spartan Nurse," not by words but by actions. Here are a few of our stories about just some of the nurses making an impact across Michigan, the United States and the world.
Fighting COVID-19
Nursing's role has been, perhaps, valued more than ever during the ongoing novel coronavirus and COVID-19 pandemic. Our alumni and students have selflessly been on the front lines. Whether it's two recent Clinical Nurse Specialist program graduates innovating new masks and face guards for healthcare workers, or graduating traditional BSN (TBSN) students applying for temporary permits from the state to start working as soon as possible, our nurses continue to lead the way.
"Everything in me is going, "I want to do this. I want to help," said spring TBSN graduate Elizabeth Luea to the Lansing State Journal. "This is part of why I chose nursing, to help people when they can't help themselves."
Dean Randolph Rasch said while the college will always prioritize the health and safety of students, faculty, staff and patients, the pandemic is an opportunity for students who feel comfortable to learn on the job. In addition to nursing students, those from the Colleges of Human Medicine and Osteopathic Medicine are also seeing some of their students enter the workforce early.
"A crisis is also an opportunity," Rasch told Russ White for the MSU Today podcast. "Whenever there's a crisis or anytime that we come to a crossroads, there's an opportunity that we can do more in terms of education and practice, and more to link practice and education. In getting our students and graduates from all three of our colleges out there to help people, they can begin to learn how to work together and take those habits out into the workforce when they join it."
Some faculty members are taking that call to heart, volunteering to be on the front lines, including several who recently conducted COVID-19 testing in conjunction with the Ingham County Health Department and Lansing Community College at the St. Lawrence Communty Health Center. Over the course of three hours, volunteers tested 97 residents.
Tackling childhood obesity
While COVID-19 has been all over the news lately, another major health issue is affecting the nation: childhood obesity. According to the National Institutes of Health, currently more than 1 in 3 children are overweight and that figure doubles by the time they are adults.
Two college researchers, Dr. Jiying Ling and Dr. Lorraine Robbins, are looking into the problem, after having received large grants to run two programs aimed at instilling healthy habits in children across the state.
Robbins' "Guys/Girls Opt for Activities for Life" (GOAL) program will consist of a 13-week after-school club that will teach children healthy eating and cooking skills, and how to engage in physical activity; meetings for parents/guardians and their kids to learn healthy skills; and a social media app to provide a forum for participating parents.
"It's extremely important for adolescents to increase their physical activity levels and healthy eating habits, because poor health habits established early in life that lead to excessive weight gain can result in ongoing health-related problems in adulthood," said Robbins, an associate professor in the college.
Meanwhile, Ling's project, "Healthy Family, Healthy Kids," will target families who engage in "emotional eating" – or ill-advised food choices for their families – due to stress in their lives, often caused by a lack of income. Parents will be coached on making happy and healthy eating behavioral changes at home that will support their young children to establish lifelong healthy eating habits.
"Our thought is that by helping them to effectively manage their stress, they can better focus on healthy eating practices at home," said Ling, an assistant professor.
Addressing implicit bias
A new initiative led by leaders at the Michigan State University College of Nursing and Detroit Medical Center will address health disparities among people of color throughout the state.
While the task force's focus has evolved over time — it currently is centered on the COVID-19 response — the underlying theme has remained the same: How do health care providers' own prejudices or beliefs come into play when providing care for those from underserved populations? During the COVID-19 pandemic, for example, those suffering the greatest have typically come from minority groups.
"It is a great honor to be selected by the governor to co-lead this important task force," said Dean Randolph Rasch. "This partnership reinforces the land-grant mission that Michigan State University was founded on, working to better the lives of those in our state."
Supporting veterans
The college continues to make supporting those in the armed forces a priority.
Earlier this academic year, the college raised more than $51,000 to endow a scholarship for veterans in the memory of Sergeant Leonard B. Graham III, whose life was cut tragically short prior to attending nursing school. Each gift was matched dollar-for-dollar by College of Nursing supporter, Dick Wendorf. The scholarship will be available for veterans wishing to attend nursing school.
"Tracy and I wanted to especially thank Dick Wendorf for his generous contribution of matching the funds raised," said Graham's father, Leonard Graham Sr. "Dick's our angel, our son's angel, and has touched us forever. He's made our dream of endowing his scholarship a reality."
In addition, the college offers the Captain Sean Grimes Nursing Scholarship Fund in honor of one of its alumnus' legacy and commitment to others during his time in service to the United States. The U.S. Army Reserves soldier dedicated his life to healing those in battle during Operation Iraqi Freedom. Unfortunately, tragically, one week before his scheduled return home, Grimes' life was cut short by an improved explosive device during a combat patrol in Ar Ramadi, Iraq on March 4, 2005.
Since its foundation, this fund has been awarded each year to military students and veterans at the College of Nursing at Michigan State University.
International outreach
Our students and alumni aren't just studying and practicing in the United States; many are helping those in other countries as well.
Nurse practitioner Sarah Damick, MSN '17, combines her zeal for missionary work with skills forged at the Michigan State University College of Nursing to serve in The Gambia in west Africa, often without modern medical equipment but with a good deal of resourcefulness.
It's a calling that's led her to adventurous health care – traversing her village three times a day to inject antibiotics in a very ill child, driving a makeshift ambulance over bumpy roads, or delivering babies on a donkey cart by flashlight in the middle of the night. The Gambia is a sliver of a nation on Africa's west coast surrounded by Senegal.
"Some people have thought I'm absolutely crazy for choosing to live here, and others think I'm some sort of saint. I am neither," says Damick, who's learned the prominent language of The Gambia, Wolof. "I've just chosen to follow what God wants for my life, even if that means I live and work without all the amenities and technology that life in the United States has to offer."
Closer to home, students and faculty at the Michigan State University College of Nursing have turned their attention toward the Haiti Nursing Foundation (HNF), raising awareness of the health issues facing Haitians and raising funds to provide care. Dr. Denise Ferrell has travelled to Haiti to explore the potential of participaitng in the education of BSN nurses and the possibility of supporting the further development of education to prepare family nurse practitioners.
The overall deficiency of nurses per capita and high mortality rates during child birth were just a couple of reasons why MSU got involved with the foundation. The college has worked hard to raise funds to cover one semester of a nursing student's tuition in Haiti, but it looks to do more for the foundation in the future.