News
Nursing students assist with COVID-19 vaccine rollout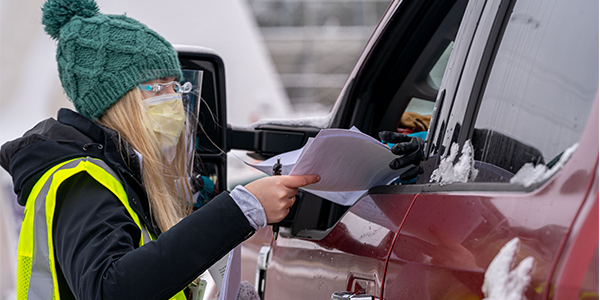 While the thought of entering the workforce during a pandemic might be scary to some Michigan State University College of Nursing students, others are seeing the opportunity.
Accelerated BSN student Jillian Burkhardt, who will graduate this summer, was with her classmates and faculty at the Sparrow drive-through lab at Frandor in Lansing earlier this week assisting with the rollout of the COVID-19 vaccine (SEE VIDEO). On this particularly snowy day, the weather did not keep the cars away, as they snaked around the former Sears department store parking lot.
"This is a pandemic, so I didn't think I'd ever get this experience," said Burkhardt, who was helping new arrivals to get into the right lane and to understand the possible reactions to the vaccine. "I feel like this is really emphasizing the health promotion aspect of nursing."
Other students were in the observation area, checking and monitoring the inoculated to ensure they were not experiencing any side effects. Once the vaccine is administered, patients must wait 15 minutes before they can leave.
The plan, according to Dr. Kathy Poindexter, the assistant dean for undergraduate education, is to expand the program and to give students as many volunteer opportunities as possible.
"I think this is really exciting because we want students to be part of the solution," Poindexter said, "and to not be seen as part of the problem that adds additional burden to health care workers."
Dr. Rhonda Conner-Warren, an assistant professor who is leading the college's efforts, hopes that students find the experience valuable.
"I'm hoping that students take away the importance of volunteering and giving of themself to promote the health of the community," Conner-Warren said. "To see the relief in people when they realize they're in line to get the vaccine is amazing."