News
Nursing students lead senior wellness classes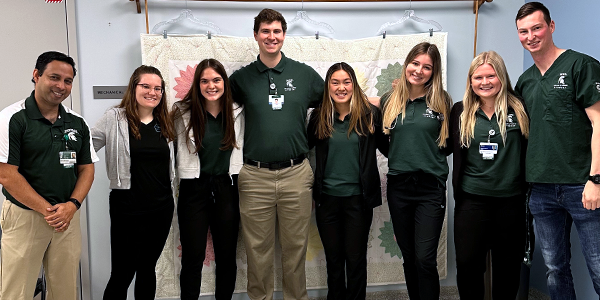 Dr. Pallav Deka and students teach at Ionia Commission on Aging

The Ionia County Health Department recently welcomed Dr. Pallav Deka and his BSN students to the Commission on Aging facility to teach a wellness course. The graduating students led seniors through resistance band exercises during a calisthenics course organized by Emily Higbee, the commission's in home services director.
Participants were given an opportunity to have their blood pressure taken by six MSU nursing students throughout the class. Volunteers were selected to track the changes in their blood pressure between exercises. The students in attendance included Samantha Endres, Audrea Morrissey, Jacob Ooms, Rachel Orange, Grace Veldhuizen, and Colin Woods.
"This session was fantastic," said Jackie Franz, a class attendee. "The explanation of which muscle groups are affected by each exercise was extremely helpful. It made it feel more like a conversation than a workout."
Ooms described teaching the classes as a comradery-building activity for people at the most risk of losing daily independence.
"When a person is able to keep up with their physical activity, they can build the necessary strength that makes their day-to-day life easier," Ooms said.
The Commission on Aging holds wellness activities for community members at little to no cost. Health activities include tai chi, aerobics, balancing, and mental strength.
"We go wherever we are needed in the county," said Higbee.
Deka emphasized the importance of exercising as one ages. Keeping one's strength up is key to maintaining daily independence.
"The vast majority of activities you do at home don't require aerobic capacity. You're not exerting yourself to the point of exhaustion on a daily basis," said Deka, adding a person needs to maintain enough strength to perform daily tasks like moving chairs and standing up.
"Strength is required for over 90% of things you do at home," said Deka. Maintaining strength can prevent falling and decrease the consequences of it. By strengthening key balance points on the body, a person can decrease their risk of having a catastrophic fall.​