COVID-19: Click on the following link for more information on MSU's response to the COVID-19 pandemic.
News
Poindexter named NLN president-elect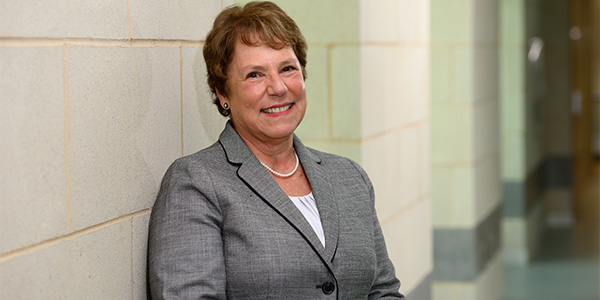 One faculty member has been elected to help lead one of the largest organizations for nursing education in the world, the National League for Nursing. This fall, Dr. Kathleen Poindexter, Ph.D., RN, CNE, ANEF, was named president-elect of the group, which has more than 40,000 individual members, 1,200 partner institutions and growing global connections.
Poindexter, who serves as the assistant dean for undergraduate programs and an associate professor at the Michigan State University College of Nursing, will serve in the president-elect role until 2021, when she will then be elevated to president.
"As a member of the MSU College of Nursing community, my hope is to positively represent both organizations and build on their core values," Poindexter said.
In her new role, Poindexter will help guide strategic direction for the organization, which provides resources for nursing educators at all levels of higher ed. She will also work to strengthen the organization's ties with international partners and work with other like-minded nursing groups to advocate for those in the profession.
The new position comes naturally for Poindexter, who has served in a variety of roles for NLN for years, including as chair of the NLN Certification Nurse Educator Board of Commissioners.
"In order to prepare excellent clinicians, we have to have excellent educators," Poindexter said, adding NLN's ultimate goal is to advance health care across the U.S. and globally. "There is a tremendous amount of resources available through the NLN."
The NLN has four core values: integrity, caring, diversity and excellence. Poindexter said those values made it easy for her to get involved with the NLN, since they aligned with both her own and the university's.
"These values align with what I believe in and, in addition to providing quality teaching, our students need to know these values," said Poindexter, who has been with the college since 2005. "Those aren't something you can easily grade on a test."
Now the hard works begins for Poindexter, who was also recently named a fellow with the NLN's Academy of Nursing Fellows. But she's taking it all in stride.
"It is a great honor and privilege to represent my nursing colleagues and give back to the NLN and my profession," Poindexter said. "And to do so representing MSU is a career highlight."