News
Positivity pays off for PhD graduate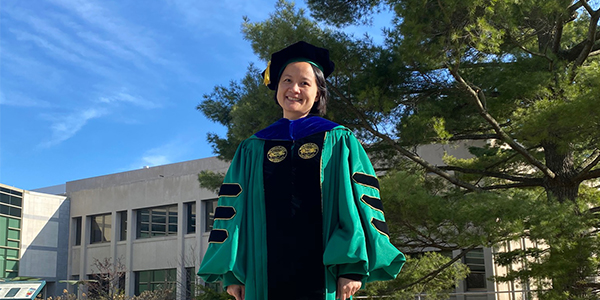 Kanjana Thana has a motto that has served her well during her time as a PhD student at the Michigan State University College of Nursing.
"Keep going," Thana said. "Everything you need will come at the right time."
For Thana, a native of Thailand, the college came at the right time, offering her an avenue to pursue her research interest: The burden on caregivers delivering nurse-designed complementary therapies that extend beyond basic care for cancer patients at home. In addition, her research focuses on the association between cancer caregiver burden and their socio-demographic characteristics, comorbidity, anxiety, and depression.
Thana found that caregivers who anticipated delivering a home-based nurse-designed intervention reported higher caregiver self-esteem and family support, and lower perceived caregiver burden in several areas: financial burden, schedule burden, and health burden. However, caregivers who identified as female, Asian, or as a spouse/partner of the patient, were employed or had high levels of depression and anxiety were significantly associated with burden dimensions of lower self-esteem, higher schedule burden, and higher health burden. Further, caregiver depression and anxiety were significantly associated with higher caregiver burden in the areas of lack of family support and financial burden.
It's been an eye-opening five years for Thana, who graduated with her PhD degree this spring. For starters, there was the language barrier. Thankfully, Thana said, MSU has resources to help international students overcome that hurdle.
"As an international student, I'm learning English as a second language," Thana said. "I am thankful for all my friends and staff at MSU Community Volunteers for International Programs who provided the support and encouraged me along the way."
Thana said an assistantship with the college has allowed her to obtain several other skills as well, including hands-on experience, deep understanding about symptom management research, and the commitment a nurse scientist requires to achieve his or her goals.
The collaboration and friendships built among her cohort and committee members throughout her PhD journey has been key, Thana said, noting Dr. Gwen Wyatt, in particular.
"I am extremely grateful for Dr. Wyatt's expert advice, direction, and support over the five years since we first met during a telephone interview," Thana said. "She was also willing to help and share her expertise whenever I turned up at her office."
When you are as nice as Thana is, it's hard to not want to help, said Wyatt, a professor.
"Kanjana is, by far, the most warm-hearted student I have worked with in the PhD program," Wyatt said. "She was always ready to support her peers and has a never-ending smile. If we gave out an award for being good natured, she would win hands down."
Wyatt said she was impressed with Thana's commitment to breaking the language barrier, including her volunteer work in the community and seeking resources on campus.
Now, for Thana, it is on to the next chapter in her life, working as a faculty member in the Faculty of Nursing, Chiangmai University in Thailand.
"Thanks also to all PhD cohort, and staff members within the MSU College of Nursing," Thana said. "Their sincere support and friendship helped me to have a wonderful time at MSU."