News
President, dean see promise, challenges in COVID-19 vaccine distribution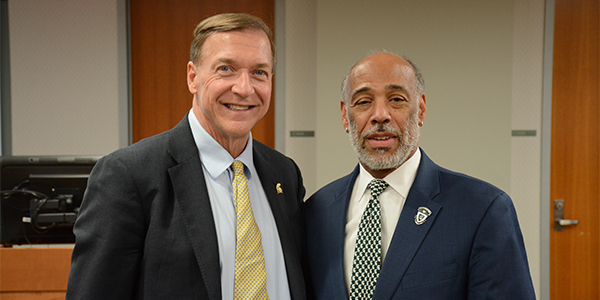 It's been nearly a year since the COVID-19 pandemic changed the world as we know it, and while the fight is far from over, the new vaccines have offered promise that we can soon put the pandemic behind us.
In February, Michigan State University College of Nursing Dean Dr. Randolph Rasch and MSU President Dr. Samuel Stanley Jr. addressed the vaccines' promise during a town hall hosted by the Detroit Regional Chamber.
Rasch, who has a long career in public health, is currently serving on Michigan Gov. Gretchen Whitmer's Coronavirus Task Force on Racial Disparities. One of Rasch's biggest responsibilities is to advise on communications to minority populations who may be more skeptical of vaccines — including COVID-19 — and are less likely to get it. For example, a Detroit Regional Chamber survey found that while over 55 percent of white voters say they want to get the vaccine, less than 33 percent of black voters say the same.
"One of the first things the Michigan Department of Health and Human Services (HHS) had done is to begin to do communications regarding immunization in general," Rasch said. "We have tremendous community partners across the state. There are community organizers and organizations who have their thumbs on the beat of the community, listening to what their concerns are and are, in real time, beginning to adjust those messages to get the word out and to build trust."
When the task force first formed early in the pandemic, the focus was on disparities in testing. Those same disparities are likely to be present in the vaccine rollout, but lessons learned will hopefully lessen the gap, Rasch noted.
"The task force was concerned marginalized communities weren't being tested because most of the tests required driving up, and a lot of individuals didn't have the ability to drive up," Rasch said. "I think that it will be a model for healthcare; to go where folks are and where it's needed."
Rasch also acknowledged how the pandemic may change healthcare curriculums going forward.
"For all healthcare students, one of the things I say to students and faculty is that every nurse is a public health nurse, and I think every physician knows that too," Rasch said. "Training from the very beginning has to include not only thinking about the patients you are taking care of, but possible exposure to other patients as well."
Stanley also touched on what he has learned about education from the pandemic.
"We've learned how important the in-person experience is for students," Stanley said. "The paradoxical component to this is we've learned how well online can work for some classes. We also learned that we can teach safely in person with social distancing and masks, and we've developed protocols to make dorm life safer."
Stanley said the vaccine will be a "game changer" and things could look very different in the fall.
Stanley, whose background in infectious diseases made him very comfortable in leading the university through the pandemic, noted while safety has always been the highest priority, so too has been delivering on the university's two main priorities, research and education. Stanley also emphasized the work of researchers across the world to produce a safe and effective vaccine so quickly.
"One of the things people don't realize or fully appreciate is what a really magnificent accomplishment it is to have these vaccines so quickly," Stanley said. "We had a head start with SARS, which led to an outbreak in 2002. After that outbreak, an extensive amount of work was done on SARS. I don't believe that we would have these vaccines so quickly without the head start we did."
Stanley went on to talk about the science and efficacy of the vaccines.
"The two vaccines available at the moment (Pfizer and Moderna), use messenger RNA, so there is no live virus in current vaccines," Stanley said. "The data suggests they're very effective, maybe as much as 95 percent effective. Based on the data we're getting out of Israel, they're probably effective in reducing transmission as well."
In terms of herd immunity, a concept widely accepted as the only way out of the pandemic but disputed by many on how or exactly when we'll reach it, Stanley notes that the safest way is through immunization. Once the population reaches 70 percent immunization, Stanley predicts that we should be in a good place, but complete eradication of the disease is unlikely. Likely, we should expect it to be similar to the flu where it still causes problems but not nearly to the scale we see today with COVID-19.
In relation to MSU, Stanley said that it isn't distributing vaccines at the moment but sent in an application to the state to do so; however, the university has been assisting Ingham County to distribute vaccines. This includes College of Nursing students working at various vaccination sites across the county.
You can watch the full town hall with the chamber online.