COVID-19: Click on the following link for more information on MSU's response to the COVID-19 pandemic.
News
President Stanley visits the College of Nursing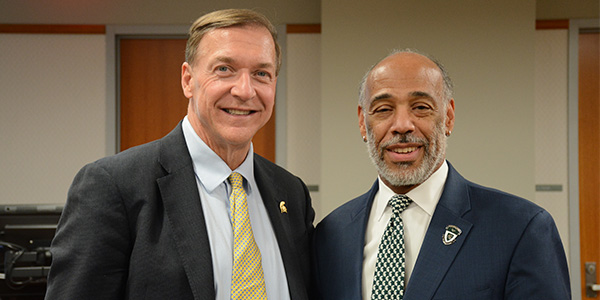 MSU's new president, Samuel L. Stanley Jr., MD, visited the College of Nursing last week as part of his tour across campus, introducing himself to faculty and staff.
He touched on several topics in a wide-ranging discussion, including the restructuring of the health sciences colleges, funding issues for researchers, building and enhancing partnerships with area health systems and what the university is doing to create safe spaces for students.
"The role of nurses will be to lead the changes that happen in clinical care," Stanley said, adding MSU needs a "team approach" to health care delivery, which was one reason behind the recent decision to place the three health sciences colleges – Osteopathic Medicine, Human Medicine and Nursing – under a newly created executive vice president for health sciences position.
Norm Beauchamp, MD, will relinquish his role as dean of the College of Human Medicine to take on that role. Stanley noted Beauchamp was "the right person at the right time" and he applauded the new EVP's vision and experience.
"It's something that I talked to the deans about extensively," Stanley noted. "I felt the health sciences colleges weren't being given all the resources they needed. I think (the EVP) will be an advocate for these three colleges."
In addition to the restructuring, Stanley answered questions from faculty and staff, including whether MSU would consider investing in "seed money" grants for junior faculty to assist them in their research, especially when outside funding can sometimes be slow or difficult to obtain.
"I think this is particularly important with young faculty so they can reach tenure and move their portfolio forward," Stanley said. "I hope as this health sciences team works together, we can think about ways we can develop internal programs."
Stanley also talked about the importance of cementing relationships with area hospitals and health systems, noting MSU needs to differentiate itself from others. The construction of a new McLaren Greater Lansing hospital adjacent to campus could be a big opportunity, he added.
One way for nursing and MSU to set itself apart, he said, is through improved artificial intelligence or simulation lab facilities on campus.
"These are great assets to have … and I expect your new EVP would work with your dean to invest in it or expand it," Stanley said.
The president also took time to update the college on what the university is doing in light of a recent Title IX investigation, focusing on a new website that will track progress on actions regarding federal reviews.
"It's very important the need to improve our work in that area," Stanley said "We're working as an institution to improve campus safety."