News
Put me in, coach: PhD graduate carries on mentor's research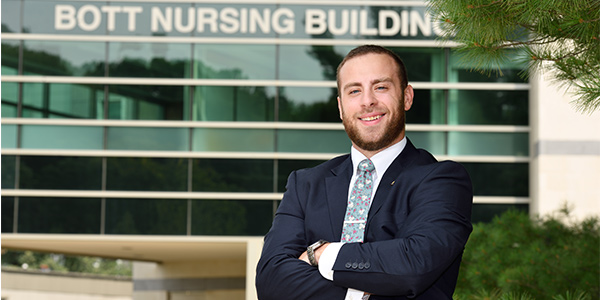 When Eric Vachon started his baseball career at Hope College, he had to choose between studying nursing or psychology.
"I didn't want to go into psychology because I didn't want to have to get a PhD," said Vachon, PhD '18, who initially started off as a registered nurse.
But Vachon was bitten by the research bug early, after an encounter with then-Associate Dean for Research Barbara Given during his undergraduate days at Hope College. After a year as an RN, Vachon was inspired by Given to give the PhD program at the Michigan State University College of Nursing a try, despite his hesitation.
"I think one of my biggest hesitations in moving from working as a registered to nurse to starting my PhD was the fear of losing patient contact and not being able to provide direct care," Vachon said. "However, while we are conducting research studies, we are interacting with patients and study participants all the time and in many different ways. So, once I started being actively involved in research studies, I was able to have that direct patient contact."
During his time at MSU, Vachon worked alongside Given on her study on symptom management for cancer therapy patients treated with oral chemotherapy agents, which he's continuing now at Indiana University.
"It's been a seamless transition from my PhD to my post-doc now." Vachon said. "I've been able to continue the work of Dr. Given and her husband."
Vachon doesn't believe that he'd be where he is today without the guidance of Given and the opportunities he was presented at the MSU College of Nursing, which included presenting his research at a nursing conference in Ireland.
"The biggest key to where I am now is working with the Givens," Vachon said. "Being able to be a part of a large research team and see, real-time, the foundation of what it takes to run a large study and be successful — that's something that's not always feasible at other colleges or universities."
Given is not surprised by his success, which most recently included being named to Hope College's "10 Under 10" list, which honors 10 alumni who have become emerging leaders in the 10 years since their graduation.
"Eric was a very engaged and active student during his time at MSU both in academics and his coursework, but also in his research experience," Given said.
"He was a Research Graduate Assistant on a National Cancer Institute funded grant and was an active and excellent team member fulfilling multiple roles on the grant. It was not surprising to see him accept a position at Indiana University and I know he will have an outstanding research career."