News
A representative in scrubs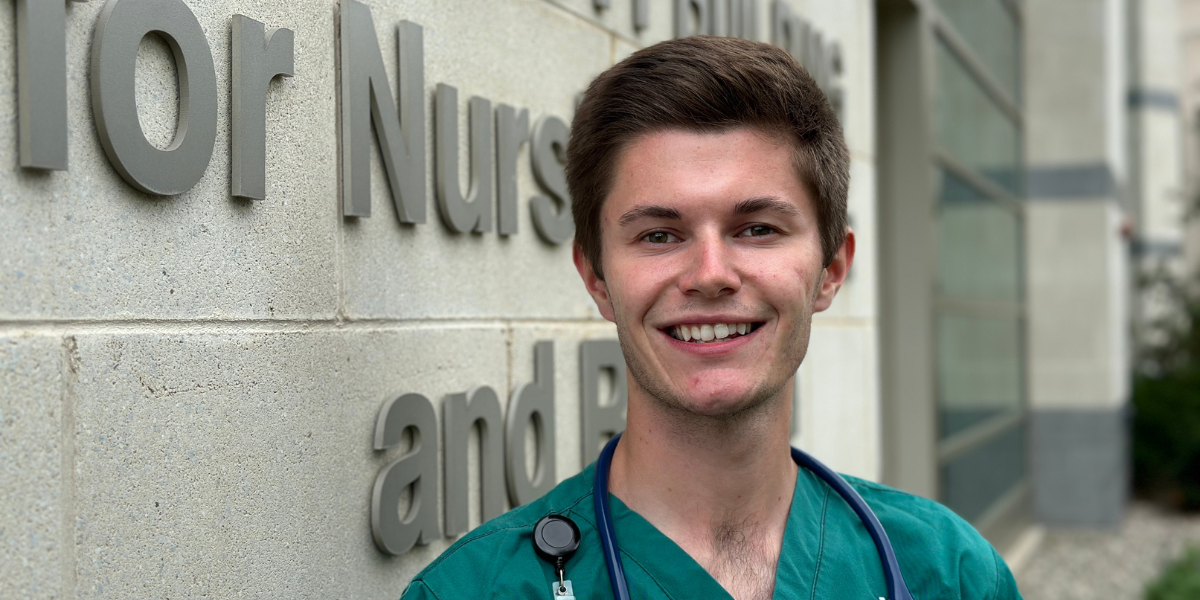 Homecoming is a staple of every college student's experience.
For Caleb Fraser, a Michigan State University College of Nursing student, being an ambassador on the Homecoming Court this year only made sense. From starting his college experience in a Wyoming bedroom to finishing it out as a representative in scrubs of the MSU student body, his journey has been nothing but eventful.
Homecoming ambassador
"I decided to apply to be a homecoming court ambassador because I hadn't seen a lot of people from the College of Nursing," said Fraser. "I thought it was important to represent nursing since it can be overlooked in the health care field. It is such an honor to be able to represent the college and my classmates this year."
The MSU Homecoming Court represents MSU on numerous occasions and interact with alumni, students, faculty, staff, administrators and the public. They also receive complimentary tickets for themselves and two guests to the President's Homecoming Reception and the football game. Serving as a Spartan ambassador provides court members the opportunity to give back to MSU and represent the richness and diversity of MSU students.
Court members apply to be on homecoming court, and gather recommendation letters from peers, MSU faculty or staff. Out of all the applicants, 20 have an interview and are reviewed by the final committee to pick the 12 ambassadors.
The MSU experience
"I thought I would be a music major when I was first thinking about college. I was deciding between University of Wyoming and MSU," explains Fraser. "I had many connections to the University of Wyoming — I even knew their marching band director — but the adventure of going to Michigan where I didn't know anyone pulled me in."
The adventure of the unknown won, and Fraser received a full-tuition STARR scholarship to MSU. With a room assigned and his roommate, Fraser was ready to start his new Michigan life. But 2020 had other plans as the COVID-19 pandemic shifted the university to online.
"I remember waking up two hours earlier than those who were in Michigan because of the time zone difference," recalled Fraser, "Navigating a global pandemic is challenging enough, but then starting college and becoming a morning person to attend your classes because of the time difference added an extra layer of challenge."
When the campus was able to gather again Fraser jumped at the chance to be involved. Fraser joined the Spartan Marching Band (SMB) as a saxophone player. This season he is a squad leader, which is a key leadership role that keeps uniformity within the marching formation.
"Being in the SMB has meant so much to me," said Fraser. "My band jacket carries a lot of traditions and connects me to the university in so many ways."
The Spartan band jacket has been a long-time tradition in the SMB. Alumni proudly wear their jackets when they come back to campus and across the country.
"It is always so cool to see someone in their band jacket because you can see how much it has faded and to see the tradition carry out so long," said Fraser.
"I actually connected with a College of Nursing alum because of this jacket," stated Fraser. "She was a music educator but when back to school to become a nurse and worked on an Intensive Care Unit as a nurse. It was great to have that kind of connection because of the jacket."
Originally Fraser started in engineering switched to chemistry then to human biology. But his drive to help people made him reconsider his path.
"I love helping people, I love working with people, and then just the satisfaction of going out of my way to make somebody's life better, is what I wanted to do," explained Fraser.
The College of Nursing experience
"In my brain I envisioned things I was passionate about like a Venn diagram, helping people, math, science — it all made sense when you combined it with nursing," said Fraser.
However, as fate would have it, Fraser would be in the same class as his roommate, both of which started out in different programs but crossed paths again in nursing.
"Marco Munoz and I were supposed to be roommates our first year," said Fraser. "We stayed connected throughout our time at MSU and had three major changes together to end up here in the same college."
Fraser's goal is to work on an Intensive Care Unit as a nurse for a couple years in Wyoming and spend time with his family. From there he plans to go back to school to become a certified registered nurse anesthetist.
"I couldn't imagine my life if I didn't attend MSU. The lessons I've learned, the skills I've gained and the friends I've made are invaluable to me," said Fraser. "MSU really become a home away from home."