News
Senior Projects focus on Mental Health, Chronic Conditions and More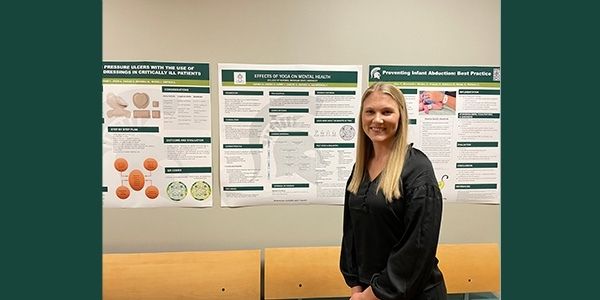 During their last semester, senior nursing students at the Michigan State University College of Nursing researched and proposed practical solutions to many issues affecting health care delivery.
Topics included introducing yoga therapy to help with mental health, using technology to prevent infant abduction from hospital floors, creating a program to encourage healthy lifestyles among families and helping adolescents' transition more smoothly from their pediatrician to their new, "adult" doctors.
Below are some brief recaps from students who were involved with these projects.
Effects of Yoga on Mental Health
"We looked into using yoga therapy to help decrease anxiety and depression. We thought because of COVID-19 there would be an increase in both. We wanted to focus on the holistic side of mental health, educating our patients on yoga and mindfulness to give them another resource before medication," said Kelsey Cooney, a graduating senior. "I was on clinical at Saint Mary's hospital, so I could see what they were providing, and I recommended adding yoga therapy to help." Through evaluations, the group analyzed how it affected each patient's mental health, and if there was an improvement.
Preventing Infant Abduction: Best Practice
"We wanted to look into safety in pediatrics, more specifically how we can use something called a 'Hugs Tag' to prevent abduction in infants," said Grace Murphy, a graduating senior. "Using the Radio Frequency Identification (RFID) technology in the Hug Tag, attached to an infant's wrist or ankle, if the infant is moved from the unit by someone unauthorized it sets off an alarm to staff for them to respond to." This would be an increased addiction to already existing Hospital Specific Standards during a "Code Pink" "We not only conducted research into this, but we also worked with specific units to identify their concerns in their process they might have. It was interesting to see the evidence behind this research while at my clinical placement."
Increasing Family Participation in Head Start Programs to Sustain Healthy Lifestyle Behaviors
"The pandemic made us interested in peoples' overall health and how the effects of the pandemic can be mitigated by a healthy lifestyle," said Grace Kolongowski, graduating senior. Her group's research looked at Genesee County in Michigan. The classes they provided offered easy-to-make recipes with simple ingredients and at-home exercises. Weekly check-ins with the family via head start programs to discuss challenges led to better outcomes.
Implementation of a Standardized Transition of Care from Pediatric Care to Adult in Patients with Chronic Conditions
"We found that there were a lot of emotional problems from adolescents with a chronic illness transitioning from their pediatric doctor to a new doctor," said Casey Kramer, a graduating senior. "We worked on creating a streamlined process so that doctors, health care providers and families to make a smooth transition with less anxiety for the patient." The proposed idea in her group's research is to have doctors, nurses, families and insurance companies work together to help transition young adults from their pediatric doctor to their new primary doctor. Creating this streamlined process would be a way to help with patients' anxieties. "I got a job in pediatrics care at a nearby hospital, and I look forward to working to implement this kind of treatment plan for my older patients, to better care for their needs."
"Dr. Donna Moyer and I designed the course to allow students with a shared interest to work together. By doing this we observed enhanced ownership and dedication among all the groups." said Dr. Kristine Rose. "We had the students shared their interests in a survey on the first day of class. Taking the results, Dr. Moyer and I developed working groups that were very effective. Throughout the semester, we watched the students have 'aha' moments regarding ethical dilemmas and recognize how they can impact nursing through evidence based practice. However, the most rewarding moment of the semester was students seeing evidence-based practice in their posters and how they could implement evidence based practice in their future nursing practice. It's not always about the grade, it's about how students apply their education and begin thinking about how they can make a difference."