News
Simulation helps students develop disaster management and response skills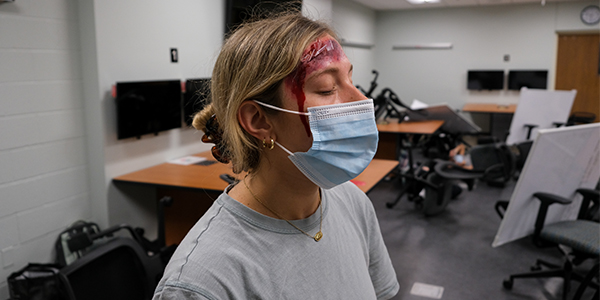 In a pitch-black room with peers and mannequins lying in various spots across the floor, undergraduate nursing students scoured the area for victims needing care.
The students participated in the disaster preparedness simulation as part of NUR 471: Public Health Nursing. Students took turns engaged as victims and first responders in the event of a tornado.
Karla Palmer, MSN, RN, NCNS and instructor, said the simulation is a great way to expose students to a mass casualty incident in the community and how to respond.
"This is an opportunity for students to be in a setting where there is chaos going on," said Palmer.
Students who acted as victims were given a card with injuries, some of their vital signs and a color – green, yellow or red. One of the goals of the simulation was for the students acting as first responders to address the "red" patients first, as they needed the most critical care.
Injuries included an amputated arm and glass in their forehead, which fake blood and special effects makeup helped depict. Throughout the simulation, students who engaged as first responders worked together to identify victims, move them to a designated triage area and provide care.
Emily McIntire, MSN, RN, CHSE and simulation lab coordinator, said the simulation allows students to develop their disaster management and response skills, which even new graduates are expected to have.
"As stewards of community public health, it is essential they are trained and prepared to serve accordingly," McIntire said.
A recent addition to the undergraduate curriculum, the simulation is implemented in the students' final semester because at this level, they have the knowledge and skills to provide disaster management care.
"I learned how to respond to an event like this and how everyone could collaborate together," said senior Jules Lyddy.
McIntire said Palmer approached her in the summer 2021 about providing a disaster emergency preparedness simulation for her students because at that time, NUR 471 was limited in clinical site opportunities due to the COVID-19 pandemic.
"Since the activity aligns with the course objectives and would help address components of the American Academy of Colleges of Nursing New Essentials, we felt the simulation would be a great experience to help students be prepared for nursing practice, which includes disaster management," said McIntire.
After doing the simulation for the first time in the summer, McIntire said students expressed they were pleasantly surprised at their ability to respond appropriately in an emergency or disaster situation.
"This sim allows them to see what they have been learning and working so hard for is really coming to fruition," McIntire said. "They felt completing the sim just prior to graduation helped increase their confidence as they were leaving nursing school and preparing to enter nursing practice."