COVID-19: Click on the following link for more information on MSU's response to the COVID-19 pandemic.
News
Student finds balance sharing yoga with students, patients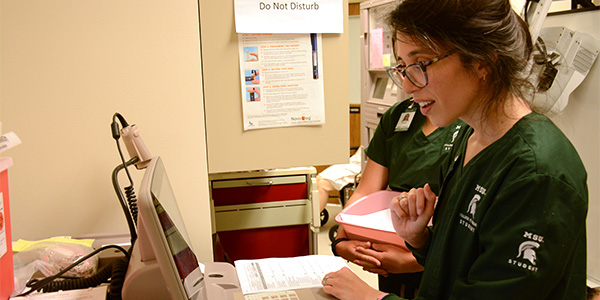 When Alexa Andersen walks into a room, the mood immediately lifts. The accelerated option BSN student has an aura of positivity and calm about her, and never lets a smile fall from her face.
Andersen began her Michigan State University journey in 2003, when she started her undergraduate studies. After graduating with a degree in psychology she went on to graduate school to study student affairs. However, in the middle of her studies, she was diagnosed with a life-changing illness.
Once an avid runner, Andersen found herself unable to perform her typical tasks, and began to wonder if there was a way to still be active that would help her adjust to her new lifestyle. That's when she rediscovered her passion for healthcare and yoga.
Now, Andersen has been practicing yoga for 8 years and is a certified instructor. She believes that yoga can truly be for anyone.
"The two main focuses are the physical aspect and mindfulness," Andersen said, "so, no matter who you are or what you do, you can use it to handle any stress that you face."
As a current BSN student, she aims to use her studies to help implement complementary therapies, such as yoga, into everyday work with patients, because she has seen the benefits it can bring.
Not only is she a supporter for the use of complementary therapies, but she is a steady voice of advocacy for patients. During her time in nursing, she has realized the most important role a nurse can play is an advocate for their patients as well as themselves.
"My grandma once told me that if you aren't helping yourself, you can't help others, which really stuck with me," Andersen said, adding she hopes that by combining nursing and her yoga practice she will be able to accomplish this.
Most recently, Andersen utilized her yogi skills at the Michigan Student Nursing Association Conference in Detroit, where she assisted another instructor in leading a group through a calming flow. While she felt very honored to be able to help at the event, she already had some practice under her belt: During her Health Promotion 1 class integrative therapy retreat, she was asked to lead the group, comprised of faculty and students, in a session.
"That was huge for me," Andersen said. "Even though I had to throw it together on the spot, I felt extremely happy to be sharing yoga with others."